Fun Typing Games Page
Below are links to all the fun typing games on this site. Not only do typing games make you a more proficient typist, they are also good brain games in themselves.
To type accurately and quickly, you need to be very focused. This requires a high level of concentration and quick reaction time.
So even if you already type well, play these typing games anyway. They'll give you a more powerful brain!
All the fun typing games below follow the same basic rules. If letters fall down the screen, type the letters as you see them. Or, if a word appears suddenly, type the word quickly and accurately.
Want to measure your typing speed first? Take this free online typing speed test.
Here are the Typing Games:
Game #2: Alpha Attack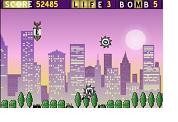 About This Game. Alpha Attack is a very well-made typing game with cool graphics and effects. Save the town from falling bombs and objects by typing the letters as they fall.
There are a number of levels you can complete such as Suburbia, Apartment Complex, Terraces, and New York. Play free now.
Game #3: Typing Tidepool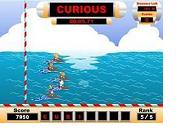 About This Game. Race your dolphin to the finish line by typing the words that appear on the screen quickly and accurately.
There are 20 relay races you can run, with the typing getting harder the further you progrees. This is a really fun typing game and brain game.
Play free now.
Game #4: Type for the Gold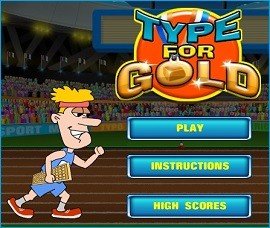 About This Game. This online typing game is a fun way to improve not only your typing skills, but your brain as well. Type like an expert to win a gold medal in the race!
Your character is a track runner competing for a medal. Type quickly and accurately, and he will run faster.
But if you make typos or type too slowly, the other runners will pass him up and win instead. This game has 20 levels of typing challenges. Play free now.
Game #5: Typing Aliens Attack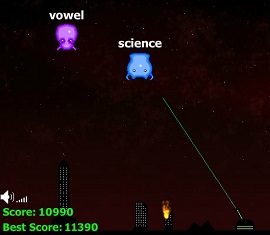 About This Game. Typing Aliens Attack is a Missile-Command style typing game. Defend your city from the bombs dropped by aliens! To destroy the aliens, you need to accurately type the word displayed above each alien ship.
There are 10 waves of aliens you need to defeat. Typing the word without errors shoots the ground-based laser at the alien ship automatically.
This game resembles Alpha Attack, but it's got a more old-school feel. For a real typing challenge, try Typing Aliens Attack on the Impossible setting. Play free now.
Strategies for Better Typing
Okay, so you figured out that you're not that great a typist. What can you do about it?
To be an excellent typist, you need to do more than learn the position of the keys on the keyboard. You must form good typing habits, and try to avoid falling into bad habits.
Here are a few typing habits you should cultivate:
Position. Proper body/hand/arm position will decrease errors and fatigue. Keep your feet flat on the floor.

Peeking - Don't Do It! As tempting as it might be, don't look at the keyboard when typing. The goal is to force your brain to learn where the keys are without looking.

Peeking sabotages this effort. Once you've learned the position of the keys, force your hands to make the corrections without help from your eyes.

Practice. The only way to "train" the neural connections between your brain and your fingers is to practice a lot. With enough practice you'll be able to touch type, meaning you never need to look at the keyboard. So practice, practice, and practice some more.
Proper hand position hasn't changed much in decades. Below is a keyboard typing chart from 1937. Listed on each finger of the chart are the keys that finger presses when typing.
It's the same as what's used today. Cool, huh?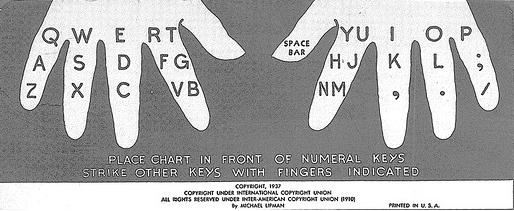 image credit: Flickr / mpclemens
So as you practice with these fun typing games, and when typing at other times, keep the good habits in mind. If you find yourself falling into bad typing habits, make corrections. Stay focused on improvement, and you will get better at typing.
Published: 10/31/2010
Last Updated: 06/11/2020