Eye Tester - Free Brain Game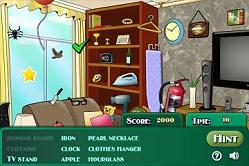 This eye tester game helps build concentration and visual perception. Find the items in the room as fast as you can.
To begin, click the Small, Medium, or Large button under the picture of the game. This opens the game in a pop-up window.
The HTML5 version Eyesight Challenge is an HTML5 game. It does not require the Adobe Flash player.
To begin, click the Medium button under the picture at left. This opens the game in a pop-up window.
Eye Tester Instructions
Wait for the game to load. Then click the Start button.
Visual perception is an important brain skill. This is used in any activity where perception and quick reaction time are needed.
If you like this game, you may also enjoy the free
A Very Simple Game
and
Idiot Test
games.
HOW TO PLAY. Locate the items listed at the bottom of the screen. When you find an item, click on it. A green checkmark appears and the item is removed from the list.
After you complete the game, you can play again if you want. The room is the same but the objects to find will be different.
Published: 12/01/2007
Last Updated: 06/11/2020