On-Line Jigsaw Puzzle - Play Free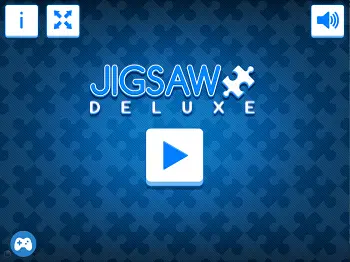 Here's a free on-line jigsaw puzzle game with different jigsaw puzzles for you to solve. You can select different sizes for each puzzle.
This game is part of the free online brain games collection.
To begin, click the Small, Medium, or Large button under the picture of the game. This opens the game in a pop-up window.
If you like this game, you might enjoy Microsoft Jigsaw and Daily Jigsaw.
On-Line Jigsaw Puzzle Instructions
Note: The instructions below are for the old Adobe Flash game.
Wait for the game to load, then click the "START" button in the middle of the game.
HOW TO PLAY. Use the mouse to move the pieces and solve the jigsaw puzzle. To grab a piece, point your mouse cursor at it and hold down the left mouse button.
My favorite strategy when solving jigsaw puzzles is to begin with the corners, then fill in the edges.
With regular jigsaw puzzles, you can look at the picture on the box. In this on-line jigsaw puzzle game, you don't have a picture to look at because the puzzle is scrambled.
So starting with the corners and edges is doubly helpful.
Here is an illustration of the sequence I use when solving any jigsaw puzzle:



1) Corners in place, sorting edges

 



2) Edges complete

 



3) Fill in the middle, I won!
The pieces of this on-line jigsaw puzzle are already oriented correctly, so you don't need to rotate them. That makes completing the jigsaw a bit easier.
Each jigsaw puzzle also has a timer. Use the timer to measure your improvement. Knowing that there is a time limit is a great way to put pressure on yourself and improve your concentration.
I'm impressed by this colorful, well-made jigsaw puzzle game. The puzzle pieces are easy to move around, the images are beautiful, and I even like the sound effect that plays when pieces are snapped together.
Jigsaw puzzles train short-term memory, spatial orientation, and concentration. Brain this game often to give your brain a boost.
Published: 08/10/2010
Last Updated: 06/11/2020