Mahjong Solitaire Online - Candy Mahjong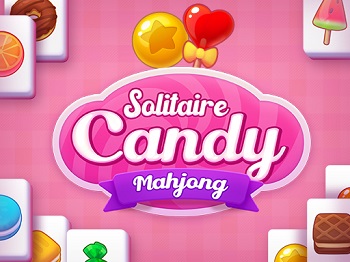 Solitaire Mahjong Candy is a beautiful candy-theme mahjong solitaire online game that you can play for free. New puzzles are shuffled randomly, so try your luck and discover new puzzles every day!
This game is part of the free online brain games collection.
To begin, click the Small, Medium, or Large button under the picture of the game. This opens the game in a pop-up window.
If you like this game, you might enjoy other free mahjong games such as Mahjongg Alchemy.
Mahjong Solitaire Online Instructions
Note: The instructions below are for the old Adobe Flash game.
HOW TO PLAY. This mahjong solitaire game follows the normal rules of similar tile games. You are presented with a stack of tiles.
In the stack are pairs of tiles, with the member of each matching pair showing a number and an image.
Your goal is to remove all the tiles from the stack. But tiles can only be removed as pairs.
For example, to remove a tile that has the number 6 and a picture of green bamboo, click the tile once, then click the other tile in the stack that has the 6 and the green bamboo.
Tiles that are boxed in cannot be removed. You must look for pairs of tiles that have at least a right edge or left edge free.
Try to get combination for extra points. To get a combo, clear more than one pair of tiles in a row without making any mistakes.
OPTIONS. This Nao's Shanghai mahjong solitaire game online has two neat options. From the starting menu, you can choose an around-the-world "story game" option or a customizable "quick game" option.
  
Story Game. "This year Nao want to complete the most difficult Shanghai mahjong solitaire in the world. He wants to be Number One!"

Travel from city to city around the world solving mahjong games in different locations. Start at Madrid, then compete at Buenes Aires, La Habana, New York, and other places.
  
Quick Game. Choose your favorite tile designs. These include Classical, Complements, Devlish, N-gendros, and Random.

After selecting the tile design, choose your favorite background then you're ready to begin.
Several other options are availble by clicking the Nao Shanghai character at the bottom of the game. For example, if you need a hint, click on the Nao character and select "Find Couple". This causes a matching tile pair to glow but it costs you 100 points.
You can also restart the level or go back to the main menu using these options.
I hope you had fun with this neat mahjong solitaire online game! Visit this page to see the full list of free mahjong games on this site.
Mahjong tile games train visual perception, concentration, and other important brain skills.
Published: 01/11/2011
Last Updated: 06/11/2020