Tripeaks Freeware Solitaire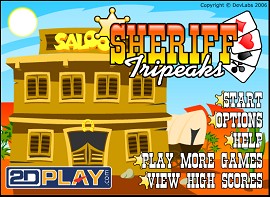 This Tripeaks freeware solitaire game trains deductive reasoning and visual perception skills.
To begin, click the Small, Medium, or Large link, Very Large button, or HTML5/Mobile link under the picture at left. This opens the game in a pop-up window.
Note: The HTML5/Mobile version is an HTML5 game. It does not require the Adobe Flash Player. It is a similar game by a different game developer.
Tripeaks Freeware Solitaire Instructions
Remove cards one value higher or lower than the up-card to clear the solitaire board.
Wait for the game to load, then click the "START" button. There are 25 levels to complete, so Sheriff Tripeaks can keep you occupied for a long time!
If you like this game, you might also enjoy the other free solitaire games on this site, such as Basic Solitaire, Forty Thieves Solitaire, and Spider Solitaire.
HOW TO PLAY. Tripeaks is a solitaire variation where you stack cards on a separate "discard" pile next to the usual draw pile.
Cards are removed from the solitaire board by comparing the up card in the discard pile with the up cards on the board.
Any up card on the board that is one less or one more than the discard up card can be removed by clicking the card.
For example, if the discard up card is a "10", then any "9" or "Jack" up card on the soliatire board can be removed. The suit of the card does not matter.
If you don't have a play, click the face-down card in the draw pile. This card becomes the new up card in the discard pile. The draw pile is never replenished, so once you reach the bottom of that pile the game is over.
You get three do-overs. To undo a move, click the "UNDO" button between the card piles.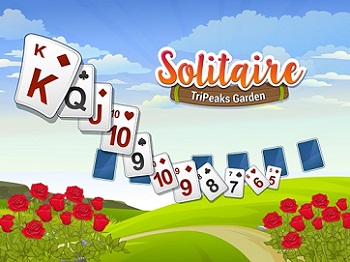 Sheriff Tripeaks solitaire
BONUS POINTS. You can earn bonus points by completing each play as quickly as possible. Bonus time remaining is shown by the gold sheriff's badge slider at the bottom of the game.
Based on your score, a Bronze, Silver, or Gold sheriff's badge is awarded on completion of each level. The total score is calculated by adding the scores of the individual levels.
In case you were wondering, I have no idea where this freeware solitaire game got its name. If you know, tell me by sending a message through the Contact Me button at left.
Card games such as Sheriff Tripeaks solitaire are not only useful for passing the time (as many people use them for), but they do also train important brain skills.
Heightened visual perception, for example, can help you when driving or performing other important tasks where precise action and quick mental reaction time are required.
Published: 10/31/2010
Last Updated: 06/11/2020
Game distributed by y3.com. Used with Permission.