Christmas Mahjong - Free Brain Game
Christmas Mahjong is a mahjong solitaire game with a Christmas theme sure to get you in the mood for the holidays.
To begin, click the Small, Medium, or Large link, Very Large button, or HTML5 link under the picture at left. This opens the game in a pop-up window.
Note: The HTML5 version Krismas Mahjong is an HTML5 game. It does not require the Adobe Flash Player. It is a similar game by a different game developer.
Mahjong Layouts
This game follows the standard mahjong solitaire rules. Remove pairs of matching, unblocked tiles until the board is cleared.
What makes this game special are the Christmas-themed tiles.
Instead of Chinese characters, you'll see mistletoe, candy canes, Christmas trees, presents, snowflakes, and gingerbread men.
If you like this game, you might enjoy the other free mahjong tile games (including Christmas Mahjong 2) as well as my free Santa word search.
The tile images in this game include the following. Of course they all make you think of winter and Christmas time:
Candy Cane; Christmas Present; Christmas Tree; Gingerbread Man; Mistletoe; Rudolph the Red-Nosed Reindeer; Santa Claus; Snowflake
Christmas Mahjong has a single layout, the classic Pyramid shape.
There is no option for changing the perspective view, so you might have a little trouble seeing the layers of the pyramid. For that reason, I recommend playing this game at the maximum window size for your screen.
There are no "wildcard" tiles (tiles that have different images but can still be matched as a pair). But there are lots of duplicate tiles, so Christmas Mahjong is easy to solve. For example, there are over 15 candy cane tiles meaning there are lots of opportunities to make pairs.
After you remove the last pair of tiles, the message You Won! displays. Click the Play Again button if you want to reshuffle the tiles and start a new game.
Features & Options
Here are the features and options for this mahjong solitaire game: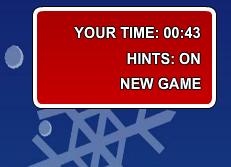 Your Time: The clock in the upper right shows how much time has elapsed since you started solving the layout. If you click the New Game button the timer restarts.
Hints. To activate the Hints mode, click the Hints: OFF button in the upper right.
Unlike other mahjong games like Mahjong Tower, the Hint feature in this game doesn't show available matching pairs. Instead, it displays all tiles of the same kind as you hover the mouse over the tile.
For example, if you hover over a Christmas tree tile, all of those tiles glow. Both blocked and unblocked tiles of that kind are highlighted.
Don't complain too much, though. The fun but challenging Mahjong Toy Chest game doesn't have a Hint feature at all!
New Game. This button clears the board and loads a new Christmas pyramid layout.
Sound. If you want to mute the Christmas music, click the Speaker icon in the upper left corner.
As with other mahjong games, playing this game can improve your concentration and thinking speed.
This Christmas Mahjong game is not as sophisticated as some of the other free mahjong games on this site, but it's still a lot of fun to play. Especially if you love the holiday seasons and can't wait until Christmas time.
Published: 01/03/2014
Last Updated: 06/11/2020
Game distributed by Games68.com. Used with Permission.
If you found the page above interesting, fun, or useful, please click the "Like" and/or "Share" button below. Feel free to leave a comment as well. Thanks very much!