Shaun the Sheep Game - 5 Episodes - Play Free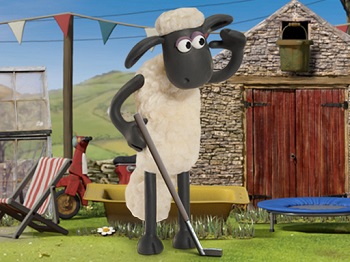 Play the Shaun the Sheep game online, for free! I've got 5 episodes of the famous physics puzzle game series right here, unblocked, for you to enjoy.
These games are part of the free online brain games collection. To begin, click the Small, Medium, or Large button under the picture of the game. This opens the game in a pop-up window.
If you like Shaun the Sheep, you might enjoy other character-based puzzlers, including Fireboy & Watergirl, Bob the Robber, and Snail Bob.
There are five episodes of the Shaun the Sheep game available on this page:
#1 - Sheep Stack
#2 - Baahmy Golf
#3 - Chick 'n' Spoon
#4 - Flock Together
#5 - Alien Athletics.
Shaun the Sheep Game - Instructions
Physics puzzle games like Shaun the Sheep train important brain skills, including concentration, logical reasoning, and reaction time. Play these games often to give your brain a boost!
The themes for each episode vary considerably. Here's a brief summary of what's different about each episode:
1) Episode 1 - Sheep Stack. In Shaun the Sheep Sheep Stack you must stack sheep up to the window. Launch the sheep by pulling their pants to catapult each sheep into the air!
Stack the sheep as high as you can until you reach the window. Click on the pants and move your mouse to set the angle and power.
2) Episode 2 - Baahmy Golf. Help Shaun the Sheep score by smashing things as much as possible! Shoot the ball and play golf at the farm full with obstacles like tractors, bales of straw, scarecrows and so on. You have five attempts to get the ball into the hole.
Set the ball's angle and power by clicking the buttons or use the spacebar. Use your mouse or spacebar to control the flippers while the ball is in play.
3) Episode 3 - Chick 'N' Spoon. Help Shaun the Sheep run as far as he can, but be careful! He's holding an egg in the spoon! Collect as many stars as you can by throwing the egg into the air. The stars will reward you points.
If the egg, or chicken, drops you will lose a life, and if you lose all three lives you have to start over. Use the arrow keys to move.
4) Episode 4 - Flock Together. In Shaun the SHeep Flock Together you must herd the sheep to safety by matching their leotards. But be careful not to stack the sheep higher than the bunting! Complete each level by herding as many sheep as you can.
Use the arrow keys to guide the falling flock.
5) Episode 5 - Alien Athletics. Run away from alien creatures in Shaun the Sheep Alien Athletics! You must help Shaun jump over obstacles, and try not to fall or the Aliens will abduct him!
Jump by using the spacebar or your mouse.
Published: 4/21/22
Last Updated: 4/21/22