Sep 25, 2019
Summer Crossword Puzzle - Play Online or Print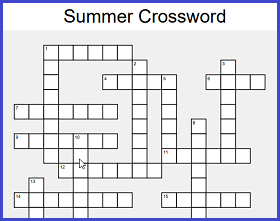 Today I've added a free
Summer Crossword Puzzle
to Memory-Improvement-Tips.com.
This is my initial foray into the realm of crossword puzzles. I plan to make many more!
For years now I've provided free printable Word Search puzzles and Sudoku puzzles. I'm pleased to now be able to add crossword puzzles to the mix.
The Summer Crossword puzzle can be solved online interactively, or you can print it out and solve it on paper. Either way, it's great fun, and the solution is available if you need it.
I'd say this crossword is easy to moderate in difficulty. Inveterate crossword players probably won't find this one very challenging, but the average person should enjoy it.
Like all the brain games on my site, this online puzzle is free to play anytime. No logging in, no registering. Just go to the game page and start playing.
Click the link below to visit the new page and give this game a try.
Continue reading "Summer Crossword Puzzle - Play Online or Print"