Mar 18, 2019
Free Printable Special Needs Word Searches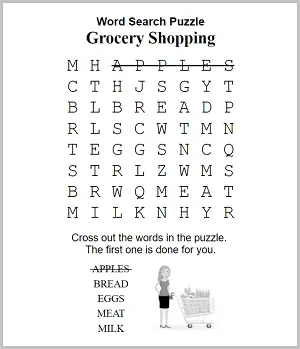 I've added 50 free
"special needs" word search puzzles
to Memory-Improvement-Tips.com. These are printable puzzles in PDF format.
Word search puzzles are a common and fun type of brain game. But for a special needs child or adult, regular word searches are sometimes too difficult.
To help fill the gap, I created a collection of simplified word searches that should be accessible to many individuals with cognitive challenges such as autism, Down's Syndrome, or traumatic brain injury.
Rather than a large grid with many hidden words, the special needs word searches are 8 rows by 8 columns, with just 5 hidden words per puzzle. And the first word has been solved as an example.
If you know someone who teaches a special needs class or have a friend or relative with cognitive issues, print out a few of these puzzles and pass them along if you think they would enjoy them.
Continue reading "Free Printable Special Needs Word Searches"