Nov 20, 2022
Solitaire Story Tripeaks - Free Online Card Game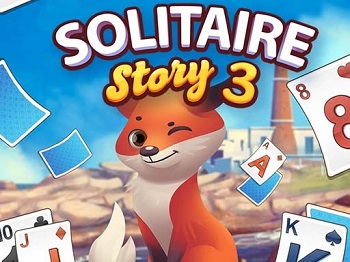 I'm pleased to announce the addition of the Solitaire Story Tripeaks series as the latest free brain games on Memory-Improvement-Tips.com.
In Solitaire Story 3, the game's main cute little character, Foxy, will take you on a journey through distant countries, fantastic landscapes, and famous landmarks.
Visit Paris, Berlin, Bali, Italy, Egypt and many more! With an incredible 2750+ levels, Solitaire Story Tripeaks 3 is one of the deepest Solitaire games of all time.
Enjoy Daily Missions, Weekly Air Balloon Challenges, and dozens of new card designs!
If you wish, you can also play the earlier versions, Solitaire Story Tripeaks 1 & 2.
The Solitaire Story Tripeaks games are part of the free online brain games collection. These games are mobile-friendly and should work on your desktop computer, tablet, or phone.
Card games train important brain skills, including concentration and logical reasoning. Play these games often to give your brain a boost!
Like all the brain games on my site, these online games are free to play anytime. No logging in, no registering. Just go to the game page and start playing.
Click the link below to visit the game page and give these games a try.
Continue reading "Solitaire Story Tripeaks - Free Online Card Game"