Sep 20, 2018
Flash Games Status Update
OVERALL STATUS (9/20/18): The Flash-based brain games like Scrabble Sprint are still working. As of today, I was able to open them in the latest versions of Google Chrome, Firefox Quantum, Microsoft Edge, and Internet Explorer on PC. On a Mac, I was able to open them in Google Chrome but not in Safari.
*GOOGLE CHROME (9/20/18): As of version 69 of Google Chrome, to play the Flash games you must re-allow the Adobe Flash player every time you close and re-open the browser. The "always allow" feature is gone.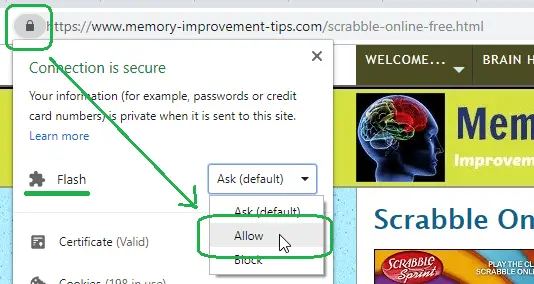 Google Chrome: Re-Enable Flash Each Time
The screen image above shows how to quickly re-allow Adobe Flash for my site in Google Chrome.
For more info on what's going on with Adobe Flash and online games, click the link below.