Free Online Typing Game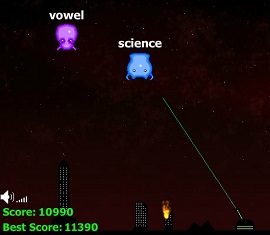 Want to have fun while practicing your typing skills? Try this free online typing game, Typing Aliens Attack.
To begin, click the Medium link under the picture of the game. This opens the game in a pop-up window.
Typing Aliens Attack resembles the classic Missile Command video game, with a twist. Protect your city by typing the words displayed above the alien ships.
Typing Game Instructions
Online typing games help you type better, but they are also great brain games. That's because you must concentrate to avoid making typing errors under pressure.
Get better at typing as you strengthen your concentration skills, all while playing a fun game. You can't beat it.
If you like this free online typing game, you'll probably enjoy the other free typing games on this site. There's also a free online math game here with a similar design.
HOW TO PLAY. Your goal in this typing game is to protect your city from bombs dropped by aliens. To do this, you need to type fast and type accurately.
You've only got one ground-based laser to take out the alien ships, so you don't want to miss!
Alien ships descend one after another from the skies. Shoot down each alien ship by correctly typing the word shown above the ship.
For example, if the word "science" is displayed above an alien ship, you need to accurately type "science". As soon as you type it correctly, the laser blows up the alien ship automatically.
DIFFICULTY LEVELS. There are four levels of difficulty in this free online typing game. To choose the difficulty for you game, click the Beginner, Intermediate, Advanced, or Impossible button on the Typing Aliens Attack main screen.
The higher the difficulty, the faster the aliens appear (some of them even spin around) and the longer the words you need to type.
If you're not a very good typist, start with Beginner level which shows only a single letter of the alphabet above each ship. Over time, as you get better at typing, work your way up to the harder levels.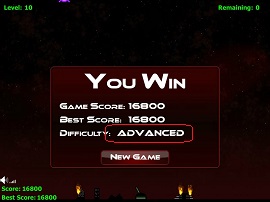 The game consists of 10 waves of alien ships. Defeat all 10, and you win! I type pretty well, so I was able to complete the game at the Advanced level (as shown at right). Impossible level is well-named. It's beyond me, anyway.
ACCURACY. It's important to type accurately in Typing Aliens Attack. If you misspell a word, that alien may then have time to drop it's payload onto your buildings.
If all your buildings are destroyed, the game is over. Fortunately, the buildings regenerate between waves. At the end of each wave, a typing summary window displays that lets you know how many typing errors you made.
TIPS. Even though you need to type quickly in this game, try not to get carried away. With two or three aliens on the screen at once, it's tempting to type too quickly.
As I found out, that's a guaranteed recipe for lots of typing errors. Keep in mind that you want to type as quickly as you can while maintaining a high degree of accuracy.
Of course, that's exactly how you should type when composing a real-life document.
Even if you already type well, playing online typing games can pay off. That's because they also train concentration and attention span, as I mentioned above.
After you've tried this free online typing game, give the Alpha Attack typing game a try. That online game has a similar theme to Typing Aliens Attack, and it's quite fun as well.
Published: 04/05/2014
Last Updated: 06/11/2020