Liquid Puzzle - Free Brain Game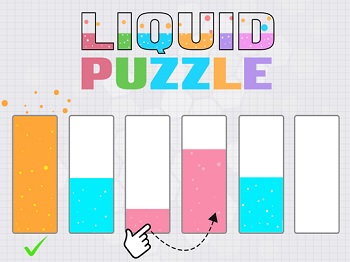 Liquid Puzzle is a fun and addictive puzzle game. Sort the colored water in the glasses to keep only one color per glass.
This game is part of the free online brain games collection.
To begin, click the Small, Medium, or Large button under the picture of the game. This opens the soccer game in a pop-up window.
If you like this game, you might also enjoy Pacxon.
Liquid Puzzle - Instructions
Liquid Puzzle is a very simple game to play (you can play with only one finger) but also super fun to play. You have numerous unique levels to resolve and for hours of enjoyment.
This game features + Daily gift + 14 level packs + More than 1300+ levels + Collect more than 4000+ stars
HOW TO PLAY. Tap any glass to collect the top colored water, and then tap any other glass to pour the liquid. Your goal is to fill each glass with only 1 color.
Note: The instructions below are for the old Adobe Flash version of the game.
Arrange pots and pipes to fill all pots with the exact volume of water needed in this challenging puzzle game.
I found the first few levels of this puzzle game fairly easy, but after about Level 8 it got really challenging.
Fill all the pots to 100% with water to complete each level. Use the available pieces to control the flow. There are 20 levels in all.
The capacity of a pot is displayed on the pot, and the capacity of a tank is displayed on the tank.
The total volume of the tanks at the top always equals the total volume of the pots at the bottom.
The goal is to connect the pipes and arrange the pots so that all the water ends up in pots and doesn't spill over.
Don't waste a single drop of valuable water, or you'll have to repeat the level.
After setting up the pipes and pots, click the round faucet handle labeled "START" to release the water out of the tanks. Click the RESET button if you want to re-do your set-up.
Liquid Measure, like all well-designed puzzle games, really makes you think. That's why it's a great brain game!
Published: 06/27/2010
Last Updated: 06/11/2020