Aqua Bubble Game - Free Brain Game
In this Aqua Bubble game, shoot colored bubbles to form three of a kind or more and clear each level.
To begin, click the Small, Medium, or Large link, or HTML5 link under the picture of the game. This opens the game in a pop-up window.
Note: The HTML5 version Aqua Bubble Shooter is an HTML5 game. It does not require the Adobe Flash Player. It is a similar game by a different game developer.
Aqua Bubble Game - Instructions
If you like this game, you might also enjoy the Inca Ball game where you try to match up like-colored balls.
Save the home of poor Aquatic! (He's the little blue guy in the lower right.) His cave is about to be flooded by a cascade of bubbles. You need to shoot down the bubbles before they reach the water below.
HOW TO PLAY.  The objective of this Aqua Bubble game is similar to other bubble popper games like Bubble Hit and Bubble Trouble. A rain of diffent colored bubbles falls constantly down the screen, similar to the way colored blocks fall in Tetris.
However, instead of stacking the bubbles, your goal is to pop them.
Popping bubbles is easy. First, look at the color of the bubble that is currently loaded in your bubble gun. Then look at the falling bubbles and identify groups of connected bubbles that are the same color as the bubble in your shooter.
Shoot your colored bubble at the like-colored group, and all bubbles of the same color connected to that group will fall out of the screen. A pair won't work, though. You need to form groups of three or more to get rid of the colored bubble group.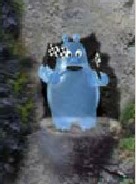 This Aqua Bubble game trains concentration and rapid decision-making. You'll notice that as soon as you get to higher levels of the game. If you don't think and react fast, the falling bubbles will quickly reach the water and the game will be over.
STRATEGY. There are a couple of tricks that can help you in this Aqua Bubble game. First, you can make bank shots off the walls.
Often you'll see two or more colored bubbles that match the bubble in your shooter high up in the bubble group. Often these will be blocked by bubbles lower down, but if there is a gap you can sometimes bounce your bubble off the wall at an angle to reach your target group. If you've ever played pool (i.e., 8-ball or billiards), you know exactly what I mean.
 

There is also a special situation where you can pop bubbles that are a different color from the bubble in your shooter. If you manager to form three or more of a kind above other solitary bubbles of a different color that are attached to the group you're aiming for, those other bubbles will fall as well. Imagine that the bubbles are grapes hanging from a vine. If you cut the stem, all the grapes will fall.

Keep an eye on the bubble counter on the left side of the screen. At first you might think your goal is to pop all the bubbles on the screen. However, you actually only need to pop the minimum number of bubbles for that level.

The blue column on the left indicates how many bubbles you've popped thus far. So if the bubble group gets close to the water, you can often still finish the level by quickly popping a few big groups all at once, if possible.

This Aqua Bubble game includes an energetic cutesy music track that you might want to turn off. It can get annoying after awhile. To do this, click the sound effects buttons on the right side of the game.

Depending on which setting you click, you can turn off the music but still hear other game effects such as noises from the Aquatic character himself.
As a brain game, this bubble popper game and others like it provide excellent training in concentration and quick decision making. You might think it's just a silly game, but improving your focus and logical thinking skills is no laughing matter.
Studies show that playing brain games translates to true-life benefits. For instance, being able to concentrate more intently on your work or studies is obviously of real value.
Published: 01/10/2012
Last Updated: 06/11/2020