Algerian Patience Solitaire - Play Free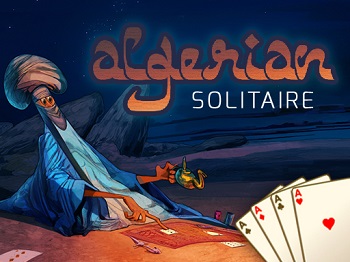 Here's a free Algerian Patience solitaire game. This version of solitaire offers a twist to the standard patience card game.
This game is part of the free online brain games collection.
To begin, click the Small, Medium, or Large link under the picture of the game. This opens the game in a pop-up window.
If you like this game, you might enjoy Klondike Solitaire.
Algerian Patience Solitaire - Instructions
In Algerian solitaire, there are 8 foundation piles and six draw piles. You can build up or down on the foundation and tableau piles, but only by suit.
Card games like solitaire train important brain skills including visual perception, logical reasoning, and pattern matching.
HOW TO PLAY. Like with all patience solitaire games, in Algerian Solitaire your goal is to sort the shuffled decks of cards into piles. But this game has some unusual rules.
First, there are 8 foundation piles. In regular patience, there are 4 foundation pile where you sort cards by suit from Ace on up.
In Algerian, there are 4 foundation piles for Ace and up PLUS 4 foundation piles for King on down.
Second, in many patience card games you sort cards on the tableau by number AND alternate suit color. In this game, you need to sort by exact suit.
Fortunately, you can create ascending sequences as well as descending sequences. For example, in normal patience you could have 10 Clubs - 9 Hearts - 8 Spades in a tableau.
Here, you can sort down with 10 Spades - 9 Spades - 8 Spades, or make sequences that increase in value: 8 Spades - 9 Spades - 10 Spades.
More rules: Ranking of cards is continuous. This means you can build a King after an Ace as necessary.
One card at a time can be moved. OR, you can move a suit sequence by holding down the SHIFT key.
In normal patience, you usually can only fill an empty column with a King. Algerian Patience is more expansive: you can place ANY card in an empty tableau column.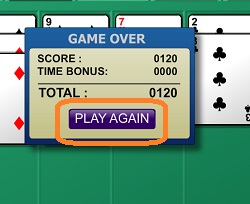 Play Again button
The Stock Pile is in the upper left. You can only go through the stock pile once per hand.
There are 6 draw piles. These are located at the bottom of the game. You can actually "peek" under each card in the draw piles if you wish.
If you forget the rules, hover your mouse over the "?" button in the lower left. This displays a rule summary in a pop-up window.
To undo a move, click the arrow button in the lower right of the game. Your score displays in the lower center area, as well as elapsed time for the hand.
If you get stuck, you can start over with a new shuffled tableau by clicking the END GAME button. This displays a PLAY AGAIN button so you can restart the game.
I found this Algerian Patience solitaire game quite challenging and a refreshing change from regular patience solitaire. There are no sound effects in the game, though, so I just play music in the background.
This is a challenging card game. Enjoy!
Published: 06/23/2016
Last Updated: 06/11/2020