Sliding Puzzle - Free Online Brain Game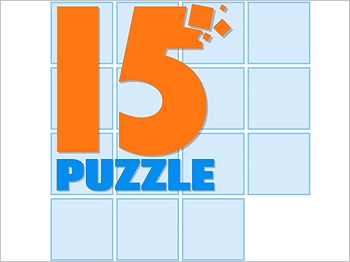 The type of sliding puzzle has been around for years. It's fun and challenging. Slide the pieces around, and reassemble the picture if you can.
This game is part of the free online brain games collection.
To begin, click the Small, Medium, or Large link under the picture of the game. This opens the game in a pop-up window.
If you like this game, you might enjoy Garden Tales.
Instructions - Sliding Puzzle
NOTE: The following are the old instructions for an earlier version of the game. The current game works the same way. This current version is a lot better, by the way!
A picture of an iguana has been divided into 16 equal pieces, and the pieces have been scrambled.
HOW TO PLAY. After the game loads, click the START button on the game to begin.
A brief Instructions page appears, which advises you to "Use the mouse to drag the tiles and get back to the original picture." That's the idea of this puzzle in a nutshell.
Click the START button on the Instructions screen to go to the puzzle itself.
This game is like a two-dimensional Rubik's Cube. You can slide the tiles around, but you can't remove any.
That's what's really challenging about a sliding-type puzzle like this one. The pieces are interlocked, so you must use your brain power to identify patterns that advance the solution without ruining your progress to that point.
This game keeps track of the amount of time you've expended in trying to reassemble the picture. However, for some reason the clock's precision is to the thousands of a second.
To me, that makes the timer more of a distraction than useful in this particular game. Feel free to ignore it.
More helpful in my opinion is the Moves counter. Once you've mastered this puzzle, you might want to retry it with the goal of completing it in fewer steps.
You could also try beating your previous time, I suppose.
There aren't many sound effects in this sliding puzzle game. There is a subtle popping sound as you move the tiles. Feel free to mute this by clicking the Speaker icon on the game screen.
I remember playing with hand-held sliding puzzles like this as a child. Usually my friends and I would get frustrated with it. We'd then take the pieces out and reassemble the puzzle as "solved".
Of course, we'd do the same with our Rubik's Cubes.

The idea with this online puzzle is to try your best to really solve it. Because even if you try and fail, your brain will get a great workout. And if you succeed, you'll enjoy a moment of immense satisfaction.
Puzzle games like this sliding iguana puzzle train important brain skills like spatial reasoning and perception. Play puzzle games often to help your brain stay sharp!
Published: 12/01/2007
Last Updated: 06/11/2020