Free Online Spider Solitaire - Play Now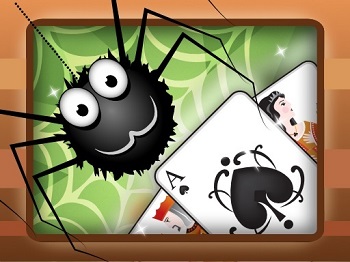 This free online Spider Solitaire game trains attention, short-term memory, and mental flexibility. Rearrange cards vertically into groups of 13 from King to Ace to clear the board.
This game is part of the free online brain games collection.
To begin, click the Small, Medium, or Large button under the picture of the game. This opens the game in a pop-up window.
If you like Spider Solitaire, you might enjoy the other free solitaire games on this site, such as Klondike, Forty Thieves, and Tripeaks Solitaire.
Free Online Spider Solitaire - Instructions
The Amazing Spider Solitaire version comes with cool optional features, including the ability to change background and card themes and view your playing statistics. It's an excellent spider solitaire game.
Change the themes of the front and back of the cards and/or the background theme. View your statistics, including total games played, won, and lost.
See your win percentage, high score, average score per game, and best time. The game also includes a timer, redo/undo buttons, and move counter.
Note: The instructions below are for the old Adobe Flash version. The Flash version still works, thanks to the Ruffle plug-in. The HTML5 version is called Amazing Spider Solitaire, is newer, and follows similar rules.
HOW TO PLAY. This game follows standard Spider Solitaire rules. The object of Spider Solitaire is to re-arrange the cards into numerically ordered groups.
The high card is the King, and the low card is the Ace.
When you begin, the cards are dealt into 10 piles (also called tableaus). The first four piles have six cards, while the remaining piles have five cards.
The cards are dealt face down, except the last card of each tableau which is face up.
Using the mouse, drag face up cards from one tableau to another. For example, if there is a 9 card in one tableau and an 8 card in another, drag the 8 card underneath the nine card. The face down card below the 8 card then becomes a new up card.
Sequential cards can be moved as a group. However, a sequence that is covered by a non-sequential card cannot be moved.
When you get a full sequence of cards from King to Ace, the sequence disappears automatically from the board.
When you reach the point where no more up cards can be played, click the top card in the Stock pile in the upper left corner of the board. This deals a new up card to each tableau pile.
A good strategy is to try and clear out the lowest pile. That way, when a space opens up you can move one of your King sequences to that space.
Published: 07/18/2011
Last Updated: 12/07/2021