Free Online Brain Games (Scroll Down)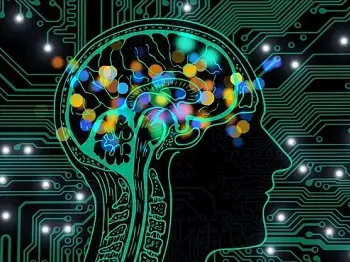 Welcome to the 200 free online brain games page. No registering or login needed. Just visit any game page, and start playing!
All Brain Games - Full List
MOBILE NOTE: Some games run best on desktop. If you have trouble playing a game on your phone or tablet, please visit this site on a desktop computer.
More About the Free Online Brain Games
The free online games above do not require the Adobe Flash Player or any other plug in. The games should work automatically in your browser.
Examples of popular browsers include Google Chrome, Firefox, Safari, Microsoft Edge, and Opera. These games work best on desktop computers. Some of them run on tablets, too.
To launch a game, such as Wordmeister Scrabble, first go to the game page. You can reach a game's page by clicking the game image or link in the game list above. Or, search for your favorite game using the site search page. The search tool is also available at the top of every page of this site.
Once you're on the game page, click the Small, Medium, or Large button under the picture of the game, or the HTML5/Mobile link (as shown in the following images). This opens the game in a pop-up window.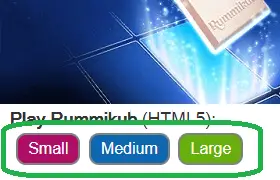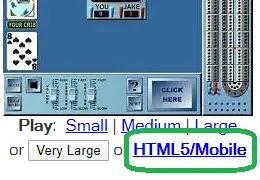 These free online brain games follow modern HTML5 web standards. They were created in HTML5-friendly languages, API's, and games engines, such as Javascript, WebGL, Constructs 2 & 3.
In general, these games do not work well on smart phones. Many of the games appear too small on a phone screen. So play them on your desktop computer if you can.
NOTE ABOUT THE ADS: These online games are free to play, so most of them are supported by advertising. This revenue goes mostly to the game developer and the game distribution company. Memory-Improvement-Tips.com also receives a share. Thanks for your patience and support!
Free Online Printable Puzzles
In addition to the free online games, there are lots of free printable puzzles on this site. I've made quite a few printable crossword puzzles and word search puzzles (including Bible word searches).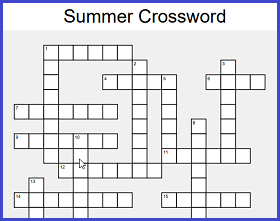 You'll also find printable Balance Quest puzzles, a unique type of math puzzle invented by my friend Whit McMahan.
For those who love sudoku, there are hundreds of printable sudoku puzzles here, including solutions. There's even a free, detailed three-part lesson on How to Play Sudoku and Win, written for this site by sudoku guru Ken Rush.
Free free to print out and solve any of these puzzles whenever you like. Solving puzzles on paper is yet another useful way to help keep your brain sharp.
More About the Adobe Flash Games
For many years the majority of brain games on this site were Adobe Flash games. Flash is the name of the software the games were written in. In 2020, however, changes in tech industry standards made Flash games unplayable not just here but across the web.
For that reason, I've transitioned to newer-style HTML5 brain games for this site. The HTML5 games here run automatically in most browsers without any plug-ins or players needed. They are the new standard.
Interestingly, a few of the old Adobe Flash brain games have been brought back to life and can once again be played. The Flash brain games on the Ruffle Flash Games page are playable on a desktop computer. See that page for more information.
I hope you enjoy the free online brain games on this site. Play them often to give your brain a boost. There's no logging in, no registering. Just go to the game page and start playing!
To learn how to use brain games to improve your memory and brain power, visit the main Brain Games Training page.
Note Regarding Mobile Devices: While many of these free online brain games are optimized for mobile phones and tablets, some of the games work better on a desktop computer. If you have trouble running a particular game on your tablet or phone, please visit this site on desktop to play that game.
Published: 01/30/2018
Last Updated: 11/23/2022