Free Online Word Searches
Free Online Word Searches Game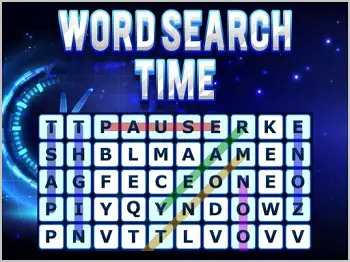 This free online Word Searches game trains your visual perception, concentration, and pattern recognition.
This game is part of the free online brain games and word searches puzzles collections.
To begin, click the Open the Word Search button. This opens the puzzle in a pop-up window.
This game has nine levels of word searches. It's replayable, too. The letters scramble when you restart. See below for even more word searches!
More Free Online Word Search Puzzles
Below are some online word searches I made myself. Click the link to go to the page for that puzzle.
Free Online Word Search Game Instructions
NOTE: The instructions below are for the old Adobe Flash version of the game.
This game has 20 different word search categories.
After the game loads, click the pink arrow buttons to choose a word search to solve (General, Animals, Automobiles, etc.) Then click the "Click Here to Begin Game" link.
With the word search game above, you can play the same category multiple times because the words are scrambled each time.
HOW TO PLAY. Here's how to play the word search game above. The category of words in your word search are listed on the right side of the game.
To select which list of words you want in your puzzle, click the arrow to the right of the "GENERAL" heading.
After selecting the category, click the "Click Here to Begin Game" link to start playing. The list of words you selected loads into the puzzle.
Carefully look through the rows and columns in the puzzle. See how many words from your word list you can find! When you find a word, circle it.
To circle a word, simply drag the mouse from one side of the word to the other. The word is crossed from the list automatically.
To exit and start over, click the "Quit" link on the lower right.
CATEGORIES.  You can see all the free online word searches categories by scrolling through them on the screen. But I thought I'd list them here as well:
General, Animals, Automobiles, Cartoons, Europe, Fitness, Junk Food, Movies, Musicians, Presidents;
... as well as Rock Bands, Sitcoms, Star Wars, Sports, MLB Teams, NBA Teams, NFL Teams, NHL Teams, US States, and Video Games.
I hope you enjoy these free online Word Searches! Word searches are one of my favorite types of puzzle.
Published: 01/15/2010
Last Updated: 02/02/2023