Bubble Shooter Gratis - Play Free Online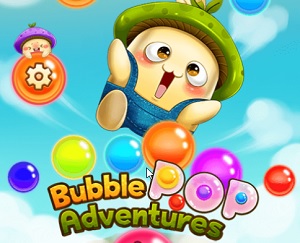 Here's a free bubble shooter gratis game called Bubble Pop Adventures. This concentration game includes infinite levels of bubble-popping fun.
This game is part of the free online brain games collection.
To begin, click the Small, Medium, or Large button under the picture. This opens the game in a pop-up window.
If you like this bubble shooter gratis game, you might also enjoy the other free concentration games on this site, such as Balloons Pop and the Slope Game.
Instructions - Bubble Shooter Gratis
HOW TO PLAY. As with all bubble-pop games, Bubble Pop Adventures involves clearing bubble groups from the top of the screen for points. This bubble shooter game is very well made and includes lots of cool features and twists.
Your job is to throw one colored bubble at a time up from the bottom of the screen, trying to match it with bubbles of the same color at the top of the screen. For bubbles to drop down, three or more of the same color need to be touching.
That means there are two ways to get the bubbles to drop.
One way is to aim for a group of existing bubbles that already matches the color of the bubble you are holding. For instance, if you are holding a red bubble, throw that bubble at a group of red bubbles at the top of the screen.
The other way is to create your own group of three or more bubbles. This is the less desirable way, because you're using up your throw bubbles. But sometimes you have to do this, in cases where there aren't any groups at the top of the screen that aren't blocked.
NOTE: You can switch the color of the bubble you are holding by clicking the double arrows on the bubble dispenser. The switches the bubble you are holding with the next bubble in the queue.
After the first 23 levels the game continues on to an infinite number of levels. So you'll never run out of bubble pop adventures, that's for sure.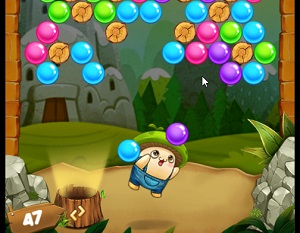 The first few levels of this game are mindless and easy. But soon enough, you'll have to pay close attention.
For example, wooden bubbles appear on Level 6. The wood bubbles can't be popped. To drop them down, you have to loosen the regular bubbles around them.
Or take Level 7. There you'll find walls of clear bubbles. Before you can drop a clear bubble, you first have to change it to a regular-colored bubble. Clear bubbles take the color of the regular bubbles you pop nearby.
At the start of each level, you are provided with a fixed number of bubbles. For instance, you start with 20 throw bubbles on Level 1, then 24 throw bubbles on Level 2, and 52 throw bubbles on Level 5.
So throwing bubbles randomly isn't going to work. You'll need to plan carefully and eliminate groups of bubbles as efficiently as you can.
Concentration games like this free bubble shooter gratis game train important brain skills including attention, visual perception, and pattern recognition. Play games like these often to give your brain a boost!
Published: 04/10/2020
Last Updated: 06/11/2020