QuickPic Memory Match Game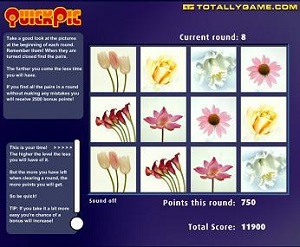 This free online memory match game trains concentration and short-term memory.
I find this game very challenging and a great workout for my brain. Highly recommended. This is one you should consider playing every day.
To begin, click the Small, Medium, or Large button under the picture of the game, at left. This opens the game in a pop-up window.
QuickPic Memory - Instructions
Wait for the game to load, but pay attention. Level 1 starts right away.
If you like this game, you might also enjoy the other free memory games on this site, such as Mario Memory Game and Lightning Librarian.
HOW TO PLAY. Quick Pic follows the same rules as other memory match games. Several pairs of flower image cards are shown together briefly on the screen, then the cards are flipped over to hide the images.
Your goal is to quickly memorize the location of each image, then flip the cards back over to match the pairs.
Get all pairs correct with no errors to receive bonus points. As you progress though levels, the amount of time you have to complete the level decreases.
Memory match games have been used for years to train short-term memory. Initially they were played using two decks of cards, and these days you can find memory match game sets.
This game is also known as Concentration, Memory, Pelmanism, Shinkei-suijaku, Pexeso, or Pairs.
In the memory match card game, all cards are laid face down on a table or other flat surface. The game can be played solo, or with two or more players.
Each player takes a turn turning over two cards. If the cards match, they are kept face up, otherwise they are turned face down again.
The object is to turn over more pairs than your opponents, which you can do by better remembering where the various cards are (so you can make pairs when it's your turn).
This Quick Pic electronic version is well designed. I was able to get to Level 8 but it was very challenging. I could really feel my brain having to work hard to concentrate then recall the pairs.
I am so impressed by this game that I recommend that anyone trying to improve their concentration and short-term memory should play this one every day for at least a few minutes.
Published: 09/25/2010
Last Updated: 11/21/2020