Word Searches Online & Printable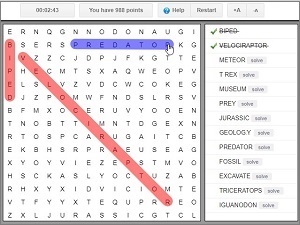 Welcome to my free collection of word searches online. Solve them online in your browser, or print them out and solve on paper. Enjoy!
Scroll down to see the list of word search puzzles. Click the name of the word search you want to solve to visit the page for that word search.
The online word searches labeled "HTML/Mobile" on their puzzle page are built as HTML5 games. They work in modern browsers automatically.
List of Word Searches Online
Below is the list of free online word searches. Click the word search name to visit the page for that puzzle.
On that page you'll find a link to the printable version of the word search as well as the online version that you can solve in your browser.
How to Solve the Word Searches Online
After opening the online version of the word search, hunt through the puzzle grid for the words listed on the right side of the puzzle. Words can be forward, backward, or at an angle.
To cross out and complete a word, drag over the letters of the word with the mouse. A line appears through the word, and a checkmark appears to the left of the word in the word list.
ZOOM IN. If the word search puzzle seems too small on your screen, click the +A button at the top of the puzzle window to zoom in. You can zoom back out by clicking the -A button.
TIMER. If you are a competitive person, try resolving the puzzle and beating your previous time. The count-up timer in the upper-left corner of the puzzle keeps track of how long you've been working on the word search online.
POINTS. You can also compete against yourself or a friend for points. When you open the word search game, you're given a starting score of 1,000 points.
Every 10 seconds, you lose 2 points. For every word you identifiy correctly, you gain 10 points.
SOLVE BUTTON. If you give up trying to find a particular word in the puzzle, you have the option to click the Solve button to the right of the word. Clicking this button marks out the word in the puzzle. However, you lose 10 points each time you use this button.
REPLAY. The online version of this word search can be re-solved over and over. Each time you open it, the letters on the puzzle grid are scrambled automatically.
Word searches train visual perception and concentration. Solve puzzles like this often to give your brain a boost!
Published: 04/10/2020
Last Updated: 06/11/2020