Freeware Mahjong Chain Game - Play Online
NOTE: This is an old Adobe Flash game. It no longer works.
Please visit the Free Online Brain Games page for the current online games.
To begin this freeware Mahjong game, click the Small, Medium, or Large link under the picture of the game. This opens the game in a pop-up window.
Mahjong Chain trains concentration and visual perception. This game has a funky soundtrack, so turn up your speakers!
Click pairs of matching tiles to remove them from the board.
Freeware Mahjong Chain Instructions
This Mahjong Chain game is different from most other mahjong tile games. Instead of removing paired tiles from a pyramid or other shape, all the tiles in this game are laid flat on a grid.
If you like this game, you might enjoy the other free mahjong games on this site, such as Butterfly Connect and Multi-Level Mahjong.
HOW TO PLAY.  The object of Mahjong Chain is to remove all the paired tiles from the board before the timer runs out. Remove a pair by clicking the two tiles.
All the mahjongg tiles are laid flat on the grid. Only tiles that are on the edge of the grid can be selected.
There's one exception, though. You can also remove a pair of tiles that are inside if the are touching each other.
When you click a pair of tiles to be removed, a "chain" (really just a line) appears briefly connecting the two tiles. The tiles then disappear.
One restriction to keep in mind is that the tiles cannot be more than two "turns" from each other. That means if you were to draw a line connecting the two tiles, there can't be more than two bends in the line.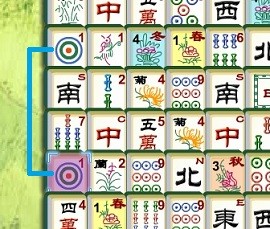 Removing a matching tile pair
This freeware mahjong tile game has 12 levels. One nice feature is the large number of hints you are allowed - 600! That seems a bit excessive to me, but take advantage of them if you need to.
If at any point during the game there are no moves left, a message appears indicating that is the case. The grid is readjusted automatically so you can keep playing.
I don't really have any strategy to suggest. Just keep scanning the outer border of the tile grid, looking for pairs.
OPTIONS. To turn off the music, click the musical note in the upper left corner. There is an un-do button and pause button in the lower right.
Mahjong tile games are challenging and a lot of fun. It's nice to see a variation to the usual format and rules to keep things interesting.
Published: 01/02/2011
Last Updated: 06/11/2020