Play Pyramid Solitaire - Free Online Game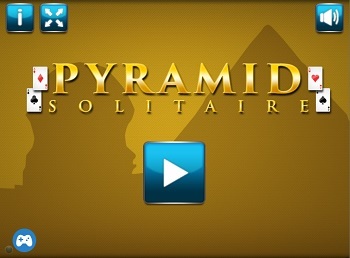 If you want to play Pyramid Solitaire for free, you've come to the right place. Enjoy this stylish version of the classic Pyramid Solitaire
This game is part of the free online brain games collection.
To begin, click the Small, Medium, or Large link under the picture of the game. This opens the game in a pop-up window.
If you like this game, you might also enjoy the other free solitaire card games such as Basic Klondike Solitaire.
Play Pyramid Solitaire Instructions
Note: The instructions below were written for the old Adobe Flash version of the game.
There are 28 cards face up on the table. The remaining cards of the 52 card deck are in the Draw Pile in the upper left.
At the end of the game, you can restart and play again by clicking the PLAY ALONE button on the final screen.
After you trying this Pyramid Solitaire game, be sure to check out the other free online solitaire games on this site.
Other fun games include Spider Solitaire, Tripeaks, and Forty Thieves solitaire.
HOW TO PLAY. To play Pyramid Solitaire, remove cards by clicking two cards that add up to a score of 13. The cards are laid out in the shape of a pyramid, and you have only three minutes to clear the board.
Number cards are worth their face value in. For example, the 6 of Hearts is worth six points, the 10 of Spades is worth ten points, etc.
Jacks are worth 11 points, Queens are worth 12 points, and Kings are worth 13 points (which means you can one-click a King to remove it.)
Only cards that are not covered by another card can be clicked. If you get stuck, try using the face-up card in the Draw Pile. You can go through the Draw Pile looking for additional cards to play.
Once a card is covered up in the Waste Pile, it cannot be used until uncovered by playing the card on top of it, so use the Draw Pile only when you really need to.
Example: The face-up card in the Draw Pile is the 2 of Clubs. The Jack of Diamonds is unobstructed in the pyramid. Click the 2 of Clubs then click the Jack of Diamonds, and both cards will disappear.
If you get stuck or think you will get stuck based on what you see in the cards, click the NEW DEAL button to reshuffle the cards. You can do this up to two times per game.
Solitaire trains concentration, visual memory, and strategic thinking.
Published: 04/29/2010
Last Updated: 06/11/2020