Play Wheel of Fortune Online - Free Game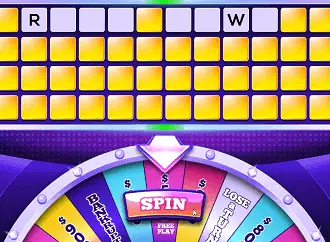 Ready to play Wheel of Fortune online for free? This replica of the TV game show trains memory, concentration, and analytical ability.
The HTML5 version, Wheel of Rewards, is an HTML5 game. It does not require the Adobe Flash player.
To begin, click the Small, Medium, or Large link or Very Large button under the picture at left. This opens the game in a pop-up window.
Wheel of Fortune Instructions
Note: To change categories, click the "Reset" button in the lower right of the game. Available categories include Book & Author, Countries & Capitals, Fairy Tale, Movie Title & Actor, and Song Title & Artist.
If you like this game, you might also enjoy the other free word games on this site, such as Bookworm, Cryptogram Puzzles, and Spiderman Web of Words.
Wait for the game to load, then click on the wheel to begin. Spin the wheel to determine the point value for each turn. After spinning select from the letter board.
HOW TO PLAY. If the letter appears at least once in the hidden puzzle phrase, you get points. On any turn, you can also buy a vowel.
In this version of Wheel of Fortune, you must solve the puzzle completely by selecting letters (you can't "solve" the phrase if there are still blanks).
Score, bonus, round score, and total score are displayed along the left. The point value of the current turn is shown in the angled box on the left.
Play Wheel of Fortune online for three rounds and see how high a score you can get. When you are finished, click the Reset button to start over with three new rounds of phrases.
If you like this game, you might also enjoy my Free Online Word Searches page.
A CORRECTION. An astute visitor brought to my attention an error in one of the Wheel of Fortune puzzles. According to Leah C.,
Dont Worry Be Happy is by Bobby McFerrin not Bob Marley. The confusion may stem from the fact that Bob Marley did a song called Three Little Birds that said "don't worry about a thing" in the chorus.
Many thanks to Leah for pointing that out.
Fun Facts About Wheel of Fortune
After you play Wheel of Fortune online, check out these interesting facts about the Wheel of Fortune TV show from Wikipedia: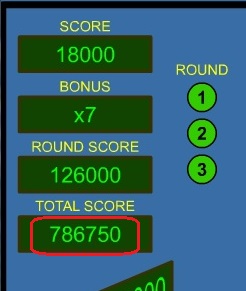 My high score in Wheel of Fortune
The original version of the American game show Wheel of Fortune was created by Merv Griffin and aired on NBC from January 6, 1975 to June 30, 1989.

It moved to CBS from July 17, 1989 to January 11, 1991 and back to NBC on January 14, 1991 until September 20, 1991 when it was canceled for good.

When the series began the minimum value on the wheel was $25 and the top dollar value was $500 in Round One, $750 in Round Two, and $1,000 for each round after that.
From 1986 to 1988, a "Jackpot" space was placed on the wheel in Round Three. The jackpot began at $1,000 and increased by that amount each day until won.
The series' original pilot had a bonus round called "Shopper's Special" in which the contestant would play for the prize they had selected before the show, with the bonus puzzle spelling out that prize.
By 1986, the show had the highest ratings of any syndicated television series in history.
Pat Sajak, a former weatherman, has hosted the syndicated Wheel of Fortune since its 1983 inception.

Co-host and letter-turner Vanna White also continued her role from the daytime version.

The current version of Wheel of Fortune does not count the daytime series as part of its history or episode count, declining to recognize that the game has aired continuously on television since 1975.
It's fun to play Wheel of Fortune online without the pressure of being on TV. I hope you enjoyed it!
Published: 04/29/2010
Last Updated: 06/11/2020
Play Wheel Of Fortune Online
Game distributed by y3.com. Used with Permission.
If you found the page above interesting, fun, or useful, please click the "Like" and/or "Share" button below. Feel free to leave a comment as well. Thanks very much!