Video Poker - Free Brain Game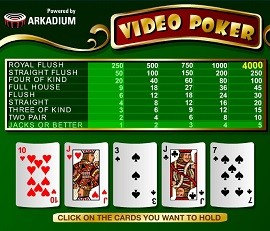 This version of Poker, also known as "Jacks or Better" (with Joker's wild), is one of the most popular casino card games. This game is just for fun, no real money involved.
To begin, click the Small, Medium, or Large link, or HTML5/Mobile link under the picture of the game. This opens the game in a pop-up window.
Note: The HTML5/Mobile version is an HTML5 game. It does not require the Adobe Flash Player. It is a similar game by a different game developer.
Video Poker Instructions
Playing card games like video poker is a great way to improve memory and concentration.
The better you understand and remember card combinations, the better you will do.
You play against the computer (the dealer) one-on-one. The goal is to get a pair of Jacks or better to win.
If you like this game, you might also enjoy the Texas Hold'Em Poker game. It's a free online game where you play Texas Hold'Em against computer players.
HOW TO PLAY. You start with a $1,000 credit. To begin playing, click the Bet 1 or Bet Max button to place your bet.
You can click the Bet 1 button multiple times as desired. Maximum bet is $5.
Next, click the "Deal" button to deal the cards. The dealer deals you five cards face up.
Click each card that you want to keep to "hold" the card. Now click the red "Draw" button to have the dealer give you new cards for the ones you did not hold.
Consult the hand ranking chart at the top of the game. If your final hand matched one of the winning combinations such as Jacks or Better, Two Pair, Three of a Kind, etc., you win the amount in the corresponding column.
For example, if you bet 3 coins and got a Flush, you're paid 60 coins. Anything worse than Jacks or Better and you lose the amount you bet.
A running total of your current cash available displays in the Coins box on the right side.
Video Poker Rules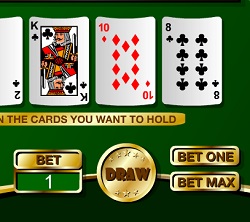 Draw and Bet buttons
I've reproduced the rules from the in-game help file for your convenience:
"The goal of video poker is to create the best hand possible. To play, first select your bet amount, then click Draw.
"Once your hand has been dealt, click the Hold button under each card to create your hand of choice. Then click Draw to replace any cards not held.
"Jokers count toward the best possible card for any given hand.
"The lowest possible winning hand is a pair of Jacks, while the highest winning hand is a Royal Flush. Winnings are explained in the table above the board based on the wager and the hand dealt.
"To start a new hand, simple click Draw at the conclusion of your last hand."
Have fun!
Published: 12/01/2007
Last Updated: 06/11/2020