Free Minigolf Flash Game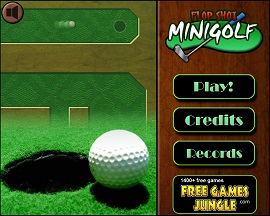 This minigolf flash game trains concentration and visual perception.
To begin, click the Small, Medium, or Large link, Very Large button, or HTML5/Mobile link under the picture at left. This opens the game in a pop-up window.
Note: The HTML5/Mobile version Minigolf World is an HTML5 game. It does not require the Adobe Flash Player. It is a similar game by a different game developer.
Instructions - Minigolf Flash Game
It's Flop Shot Minigolf! You'll like this minigolf flash game if you enjoy putt-putt or other forms of minigolf.
Play nine holes of minigolf, shooting for as low a score as possible. Putt your ball through nine minigolf mazes.
If you like this game, you might also enjoy the free online billiards game, Flash Curveball, and Neon Rider on this site.
HOW TO PLAY. After the game loads, click the Play! button to get started.
In this Flop Shot Minigolf game, you're shown one minigolf hole after another, for a total of nine holes. Your goal is to putt your golf ball into the hole in the fewest strokes (just like in golf).
To putt the ball, you'll need to aim as well as select the power of your stroke.
To aim, use the mouse to aim a line from your ball in the direction you want the ball to go. Click in the circle around the ball. Then, the Power Meter starts going up and down, showing the available power for your stroke.
The higher the power meter's red bar, the harder you'll hit the golf ball. First look at the trajectory you want your golf ball to travel. Next, consider how hard you should hit the ball.
Then, observe the red bar on the Power Meter. When the bar reaches the amount of stroke power you think you'll need, click the left mouse button. This putts the ball in the direction you selected and with the force you selected.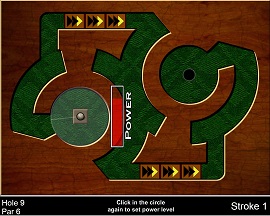 Minigolf Hole #9
Unlike time management games, there is no time limit in minigolf. So a helpful strategy is to carefully examine each minigolf hole before you start putting.
Take note of twists and turns of the walls or any gaps that might be useful. Make a plan, in other words.
In this minigolf flash game, some of the holes are equipped with acceleration pads. These feature moving arrows that indicate your golf ball will speed up when it reaches that point.
The acceleration pads can help further the progress the movement of the ball through the maze of walls. So it's helpful if you can get your ball to those locations in as few strokes as possible.
Minigolf Scoring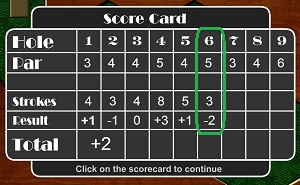 My Score Card Through Hole #6
This minigolf flash games scores your progress using the same method as golf. A lower score is better. Each hole has a recommended number of strokes for par.
Par means you've done average. For example, if a hole is Par 5, and you use five strokes of your putter to get the ball in the hole, then you've "made par" or average.
Your total score is the sum of the number of strokes for all the holes. An overall score in the negative range is a good score. A net positive score is not so good.
The game keeps track of your score as you play along. A scoreboard displays on the screen between holes showing your progress.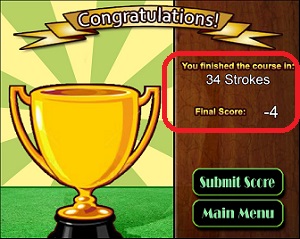 My Best Score: 4 Below Par
My best score so far is -4 (four below par). See if you can beat that!

Another tip: don't rush. It's tempting to hurry up and whack the ball.
However, you'll get a much better score (and become a lot less frustrated), if you take your time lining up your shots. Also take your time with the Power Meter so you don't overshoot or undershoot.
This game plays a soundtrack in the background automatically. If you don't want to hear the music, click the speaker icon in the upper left of the Flop Shot Minigolf home screen to mute it.
After you've played a round of 9 holes, write down your score. Then try again to see if you can beat your first score.
Concentration games like this minigolf flash game strengthen important brain skills such as attention, logic, and visual perception. Play these games often to keep your brain sharp!
Published: 01/31/2016
Last Updated: 06/11/2020
Game distributed by FreeGamesJungle.com. Used with Permission.
If you found the page above interesting, fun, or useful, please click the "Like" and/or "Share" button below. Feel free to leave a comment as well. Thanks very much!