Multiplication Speed Test - Free Online
Try this free multiplication speed test to refresh your memory of the 12x12 multiplication table. This timed test is graded and includes a link to a free printable multiplication chart.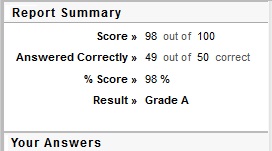 Multiplication Speed Test - My Results
Instructions are on the test. Type your name in the Name box, then click the "Start" button to begin. (Your name isn't used for anything, it's just part of the form.)
Note: If the test seems to be responding slowly, try refreshing (reloading) this page and starting the test over (to refresh, press F5 on a PC or Apple+R on a Mac).
I created this test on ProProfs.com. I selected three minutes as the time limit to make sure you really know each multiplication fact without having to think about it. And yes, three minutes is plenty of time (I tested it myself, of course).
The fastest way to complete the test is by using your keyboard only. Once the test begins, the only keys you need are the number keys and the Enter key. After typing your numerical answer for a question, press the Enter key to go to the next question automatically.
When the 3 minute timer ends, you will receive a report including your percentage score on the exam and which multiplication facts you missed (if any).
After reviewing the results at the end of the test, you can repeat the test by clicking the "Try Again" link at the bottom.
Mastery of the 12x12 multiplication table will serve you well your entire life. Take a few minutes each day for the next several days to repeat this test until you have the facts down cold.
Need more multiplication practice or a perhaps a review of division? Print out my free Printable Math Flash Cards.
Multiplying by 12 itself has always been my weak spot. Creating this multiplication timed test cured me of that!
You May Also Like
If you found the page above interesting, fun, or useful, please click the "Like" and/or "Share" button below. Feel free to leave a comment as well. Thanks very much!