Slope Game - Free 3D Ball Concentration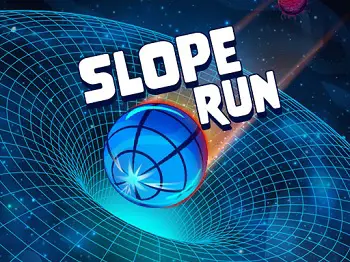 Slope Run is an amazing slope game. Keep your ball on the 3D track at high speeds and avoid the obstacles.
The is game is part of the free online brain games collection.
To begin, click the Small, Medium, or Large button under the picture of the game. This opens the game in a new window.
If you like this slope game, you might enjoy other free concentration games on this site, such as Ski Simulator.
Instructions - Slope Game
Slope Run is an endless runner game. You are a ball that is skyrocketing down a narrow and varied path set high in the air.
This crazy path is scattered with obstacles but also includes jewels to collect, ramps to jump, and tunnels to pass through.
When the game is over, you can visit the Slope Shop where you can spend the pile of jewels you have earned to buy power-ups or a cooler-looking ball.
The object of Slope is to run your ball as far as possible down the path before crashing or falling off the track. A crash happens if you run into one of the red squares, so avoid the red squares like the plague.
The distance that you travel is measured in meters, so you might travel 50m, 200m, or more! As you improve your slope skill, try to beat your own distance record.
When playing the slope game on a computer, use your Right Arrow and Left Arrow keys to control your ball, moving it from side to side on the path. Use the Up Arrow key to jump. If playing on mobile, tap the onscreen arrows..
But sometimes there is a break in the track, and the only way to get your ball over to the other side of the chasm is to to jump the gap, like Evel Knievel over Snake River Canyon (of course, he didn't make it; but you will, right?).
From the Game Publisher. Slope Run is inviting you to participate in an exciting journey to restore memories of a ball.
The story starts when the ball which is actually an astronaut was on its way to explore new planets in the galaxy. Unfortunately, it had an accident and lost its memories.
Therefore, it decides to traverse different planets to regain its memories.
To reach these planets, the ball has to go through the space tunnel. In this tunnel, it will encounter various dangerous obstacles such as unstable tiles and giant leaps.
Help the ball overcome all dangers to get to the planets and find the instructions for the next steps. Good luck!
Key Features. Two game modes (Infinite Mode and Level Mode) - Daily, weekly, monthly, and all-time leaderboards - Many tracks with various deadly obstacles - Simple controls and endless gameplay - Eye-catching 3D graphics and energetic music.
This game is quite challenging and requires intense concentration.
Concentration games like Slope Run train important brain skills including attention and visual perception. Play games these often to give your brain a boost.
Published: 04/10/2020
Last Updated: 02/19/2023