Penguin Diner 2 - Free Online Penguin Game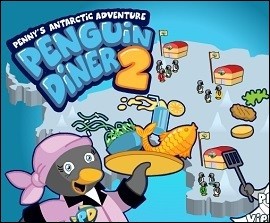 This online penguin game is the next episode of Penguin Diner. Time management games like Penguin Diner and Penguin Diner 2 train important brain skills, including attention, task switching, and working memory.
This game is part of the free online brain games collection.
To begin, click the Small, Medium, or Large button under the picture of the game. This opens the game in a pop-up window.
If you like Penguin Diner 2, you might enjoy
Penguin Diner 1
.
Online Penguin Game - Instructions
Penny the Penguin, waitress extraordinaire is back. Manage your own restaurant chain in Antarctica!
To begin, click the Play Game link or button under the game picture at left. This opens the game in a pop-up window. Then wait a moment for the game to load.
Build a successful business. Upgrade your diner with fancy decorations, upgraded furnishings, and high-end chefs.
HOW TO PLAY. After the penguin game loads in the pop-up window, the Penguin Diner 2 main menu displays. To begin playing, click the Play Game button on the main menu.
To view a brief tutorial, click the Instructions link. The tutorial shows how to seat customers, take food orders, serve the food, and collect customer payment.
The tutorial also explains how to clean the table in preparation for the next customer.
In this online penguin game, your character Penny the Penguin has returned home to Antarctica from a diner-building trip. There she opened a successful restaurant and made lots of cash.
Now she is eager to open a chain of penguin diners in her native land, Antarctica.
The penguins in Antarctica have grown tired of eating plain raw fish every day, Penny recognizes an opportunity to provide a valuable service for her native penguin community while earning a tidy profit.
Use your restaurant management skills to help Penny establish a string of successful diners so the penguins of Antartica will have lots yummy food to eat.
Antarctica is divided into four regions in this online penguin game. They include Terra Penguinia, Bird Land, Whale Bay, New Seal Land.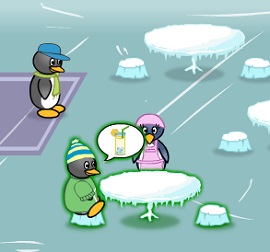 Penny Serving Customers
Penny decides to open her first Antarctica restaurant location in Terra Penguinia. When you see the Antarctica map, click the START button in the lower right of the map to display this location and begin the game.
For your diner to succeed, you need to seat and serve your customers quickly and efficiently.
Customers don't like waiting. If you make them stand in line or sit at the table without their food for too long, they'll leave angrily.
At the same time, the diner needs to be profitable. At the start of each day, a message displays telling you that day's monetary goal.
For example, you might see "Terra Penguinia, Day 1: You need to make $70."
That's why this online penguin game is a true brain game. Your brain has to work like mad to get all the tasks done with maximum profit and customer satisfaction by the end of the day. Just like a real restaurant.
Note: Pay attention to the boy and girl penguin couples that arrive at the diner. They are happier when you seat them together at a table with a flower centerpiece rather than at plain tables.
Upgrade Your Diner - Antarctic Accessories Catalog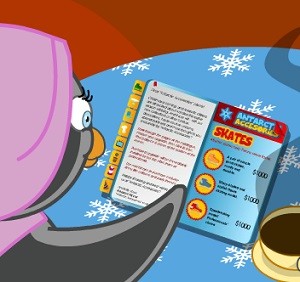 Antarctic Assessories Catalog
Quick service isn't the only consideration when running a successful restaurant. You also want to sink some of your profits back into the business.
The Upgrades feature in this online penguin game allows you to improve the diner.
Add decorations and other items and equipment to make your customers feel more comfortable.
You can even upgrade the chef so he cooks faster!
To view the list of upgrades you can buy, click the Catalog button on the main menu screen. This opens the Antarctic Assessories screen.
Here is a list of upgrades you can buy with the profits you earn:
Skates. Better skates to help Penny serve faster.

Based on price, choose simple, good skates; sharp-bladed, stylish skates; or speed skates.

Tables. Top of the line; add an extra table (to serve more customers); or add two extra tables.

Chairs. Better chairs boosts your tips. Upgrade to posterior pleaser, style and comfort, or the uber chair.

Chefs. More experienced chefs cook faster and know more recipes. Hire local Chef Pete, recruit Chef Alby, or even sushi-guru Chef Sully.

Entertainment. Keeps customers patient while waiting for their food. Add an Antarctic radio juke box, a big screen TV with penguin news and talk shows, or even an in-house juggler.

Decorations. Spruce of the decor of the diner, and your customers will spend more money at your fancy restaurant.

Choose upgrade like nice table cloths, fish oil paintings by a famous penguin artist, or curtains to protect diners from the chilly Antarctic winds.

There are even more decorations. Upgrade to pure ice lighting, a stylish clock, or a beautiful ice-drawn carpet.

Penny's Uniform. Penny starts with a basic uniform, but you can upgrade her outfit to fancier Baker Street, Sushi Queen, a la Paris, and Hats Off to Penny.

Other available uniforms include Caribbean Beauty and Miss Black Tie.

Party Themes. These upgrades are just for fun.

Have a Green Party, Craziest Hat in Antarctica party, Aloha South Pole party, Yo Ho Ho! pirate party, or a special invitation party.
As you can see, the number of diner upgrades available in this free online penguin game is pretty incredible.
Restaurant challenges like Penguin Diner 2 are "time management" games. These games strengthen brain skills important in real life, such as multi-tasking and planning.
These games help train you to use limited resources to accomplish a goal.
Penguin Diner 2 has so much free content. It's a really fun, well-made online game that also trains your brain.
Published: 02/19/2015
Last Updated: 06/11/2020