Play Mahjong Free Online - Mahjong Alchemy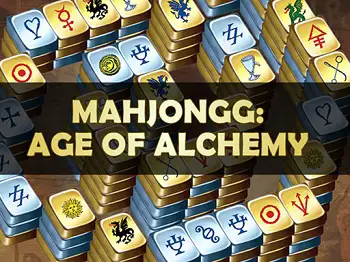 Play Mahjong free online right here. Mahjongg: Age of Alchemy and Mahjong Alchemy develop your ability to mentally process patterns and spatial arrangements.
These games are part of the free online brain games collection.
To begin, click the Small, Medium, or Large button under the picture of the game. This opens the game in a pop-up window.
This type of mahjong is a tile-matching game. Remove matching pairs of tiles until you clear the board. Tiles that are covered, or tiles that are blocked to the left and right, cannot be removed.
Try both games. See which one you like best!
Mahjongg Alchemy Instructions
For all the Mahjong games on this site, see my Mahjong Tile Games page. Each time you play mahjong free online, pick a different version of mahjong for variety.
There is strategy involved in Mahjong, and it certainly can give your brain a workout. This is a single-player version of the traditional Chinese mahjong tile board game.
HOW TO PLAY. The goal of Mahjong is to remove all the tiles from the board. Tiles can only be removed in pairs of matching tiles.
To remove a pair of tiles, simply click the two tiles, one at a time.
A tile can only be removed if either the right or left side of the tile is not blocked by another tile. Also, only the top tile on a stack can be removed.
Mahjong Alchemy is also a timed game. You have 15 minutes to clear the board.
There are two tile sets for each game. If you get stuck, click the "Deal New Tileset" button to load the second set.
GAME OPTIONS.  Click the "Menu" button to see the available options for this game. You can view the rules, turn the sound on or off, and change the perspective to either front view or angled view.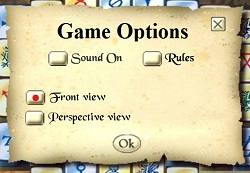 Sound On. Toggle this options to turn on or off the game audio effects, such as the sound of clinking tiles when you remove a matching pair or tiles from the board.
Rules. Click this button to view a brief summary of the rules of mahjong.
Front View / Perspective View. Use these options to select your viewpoint. "Front View" provides basically a top-down view of the tile stack. "Perspective View" sets the tile stack at an angle and is a little more three-dimensional.
DEAL NEW TILESET. If you reach a point in the game where you can't find any more tile pairs to remove, you have the option to restart the game. As mentioned above, click the "Deal New Tileset" button in the upper right corner of the mahjong game window to reshuffle the tiles and start over.
Play Mahjong free online on this page each day to help build your brain power!
Published: 04/29/2010
Last Updated: 06/11/2020