Free Rider 2 - Obstacle Course Puzzle Game
NOTE: This is an old Adobe Flash game. It no longer works.
Please visit the Free Online Brain Games page for the current online games.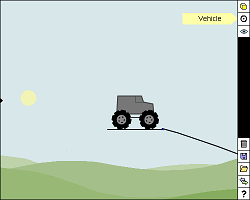 Free Rider 2 is an unusual brain game. It is an obstacle course design studio and puzzle game all in one.
Create your own obstacle courses, or load a course created by others. Then guide your chosen vehicle through the course without crashing.
To begin, click the Small, Medium, or Large link or PLAY GAME button under the picture at left. This opens the game in a pop-up window.
Free Rider 2 Instructions
In design mode, this game trains creativity and logical thinking skills. In puzzle mode, your concentration, analytical ability, and visual perception are tested.
As you will see below, Free Rider 2 can keep you occupied especially if you spend time designing obstacle courses as well as solving them. Design and testing activities stimulate the brain, as you are forced to consider, plan, build, evaluate, revise, and perfect your creation.
The controls for the game are located in toolbars hidden along the right and left edges of the game window. Hover your mouse over the right or left sides to see the toolbars.
If you like this game, you might also enjoy the free Neon Rider game page.
VEHICLE CONTROLS. Vehicles are controlled using the following keyboard combinations.
Accelerate (move forward): Up Arrow key

Brake (stop): Down Arrow key

Lean Left: Left Arrow key

Lean Right: Right Arrow key

Turn Around: Z key

Restart Course: ENTER key

Move Camera: CTRL + Click + Drag

Zoom In/Out: Scroll Wheel or +/- key
HOW TO PLAY.  You can play Free Rider 2 in either puzzle mode or design mode.
PUZZLE MODE. Load up a pre-created track map and trying to get your vehicle through. There are sites all over the web where you can find these maps. Try a Google search for "free rider tracks".

To load a track, hover your mouse over the right-side toolbar. Click the yellow open-folder icon to display the Load Map window. Copy the map from your source and paste it into the box on the Load Map window. Click the Load button to show the obstacle course track in-game.

After you load a course, you have the option to change the background image or your vehicle. Click the yellow box at the top of the right-side toolbar to change backgrounds. You can choose from a blank background, city, hills, or sky.

To change your vehicle, click the tire icon at the top of the right-side toolbar. Vehicle options include BMX bicycle, mountain bike, unicycle, Hummer, helicopter, black cube, and hot air balloon.

DESIGN MODE. Using the included design tools, you can create your own obstacle courses for yourself and others to try! The design tools can be found in the left-side toolbar.

Design tools include a pencil for drawing lines, an eraser, curve drawer, scenery drawer, goal star, powerups (slow motion, gravity, boost, or bomb) and grid.
CAMERA OPTIONS. The options at the bottom of the left-side toolbar are used to control the "Steady Cam".
 
I assume that the Steady Cam is a tool for recording your journey through the obstacle course. Camera options include the Steady Cam, Pause, and Restart buttons.

MAP OPTIONS. The buttons at the bottom of the right-side toolbar are used to manipulate obstacle course maps. For example, click the trash can icon to clear the currently displayed map.
To save a Free Rider 2 obstacle course map that you created, click the floppy disk icon. This displays the Save Map window where you can grab the code for your course. Paste the code into a file or online forum or email to share it with others.
Here's an example of a very basic obstacle course map that I created:
-18 1i 18 1i,18 1f 1u 1f 2k 16 39 s 3v g 4k 5 5a -6 61 -h 6o -o 7g -r 87 -p 8s -f 9c 5 9p q ai 1g bl 24 cq 2n e6 37 fn 3h h2 3l if 3l js 3g lb 37 mo 2r o6 2d pk 1u r3 1d sj p u4 5 vl -e 119 -r 12t -16 14i -1d 160 -1d 17b -17 18e -p 19b -9 1a5 d 1av 17 1bs 21 1d1 2u 1e4 3l 1fc 49 1gn 4p 1i5 55 1jk 5d 1l5 5h 1mn 5f 1o7 58 1pi 4v 1qv 4h,1qv 4h 1s6 43 1tf 3h 1ut 2s##T 1up 2r
To load an existing map that either you or someone else created (such as the map above), click the open folder icon.
This displays the Load Map window where you can paste the code for the obstacle course you want to play.
To load the map above, first drag your mouse over the map to highlight all the numbers. Then right-click and select "Copy" from the right-click menu.
Open the Load Map window, right-click/Paste the map numbers into it, and click the Load button.
Published: 11/28/2010
Last Updated: 06/11/2020