Microsoft Bubble - Play Free Online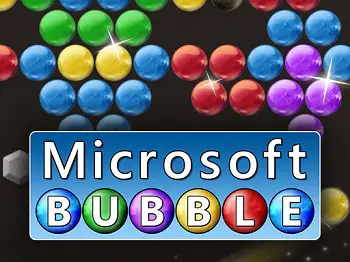 This free Microsoft Bubble game includes unlimited levels of bubble-shooting fun for you to solve. Play this game online in your browser anytime.
This game part of the free online brain games collection.
To begin, click the Small, Medium, or Large button under the picture of the game, at left. This opens the game in a pop-up window.
This version has two "world" modes with 100 levels each. Win enough of these levels to unlock Marathon mode with infinite bubble levels!
Microsoft Bubble - Instructions
Microsoft Bubble is the official game created by Microsoft Studios and is free-to-play online here. This is a beautiful, well-made bubble shooter game with tons of cool features.
If you like Microsoft Bubble, you might enjoy the free Microsoft games on this site, such as Ultimate Word Games and Mahjong.
Earn stars and coins to buy power-ups. Play multiple worlds with hundreds of levels, and work your way up to Marathon mode with infinite levels. Click the gear icon in the game to change options like turning on sound effects, background music, and so on.
This is an HTML5 game. It does not require the Adobe Flash player.
Power Ups. Earn gold coins by completing levels so you can buy power-ups in the in-game store with your gold coins. Use these power-ups to get through tough levels more easily.
Note: Power-ups are purchased using in-game money that you earn by completing levels. It is not real money.
The types of power-ups you can buy include: 1) Line Extender (250 coins): Extends the aiming line for 3 turns; 2) Big Bomb (500 coins): Makes a big explosions in the bubbles; 3) Fireball (750 coins): Clears all bubbles in its path; and 4) Rainbow (1,000 coins): Changes the color of neighboring bubbles.
Microsoft's Description of Microsoft Bubble. Jump into bubble shooting fun with bright colors, breathtaking backgrounds, and thrilling bubble action. Use skill and strategy to match three or more bubbles of the same color.
Earn coins and add power-ups to solve tricky puzzles. Unlock new and exciting levels with unique objectives and majestic mountainsides.
Beat all levels to unlock Marathon Mode and get ready for endless hours of thrilling bubble action. Aim the bubble shooter to get the perfect shot and put your expert skills to the test.
Key Feature. Finish all levels to test your expert skills in Marathon Mode. An endless mode to build your longest streak and Star collection.
Ready. Aim. Pop! It's time for Microsoft Bubble! Power-up your play to pop through tricky situations. Choose from Line Extender, Big Bomb, Fireball, and Rainbow Power-ups. Each level offers a different challenge or objective to solve.
Concentration games like Microsoft Bubble train important brain skills like focus, concentration, and attention span. Play these games often to give your brain a boost.
Published: 09/10/21
Last Updated: 09/10/21