Gyroball Ball Racer - Free Brain Game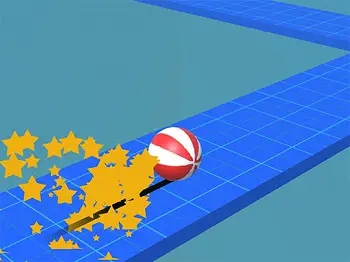 Gyroball trains spatial orientation skills and reaction time. Don't fall off the edge!
The HTML5 version Ball Racer is an HTML5 game. It does not require the Adobe Flash player.
To begin, click the Small, Medium, or Large button under the picture at left. This opens the game in a pop-up window.
Note: The instructions below are for the old Adobe Flash game.
Gyroball Instructions
Click the Play button on the next screen to start the action. Use your Arrow Keys to keep the ball on the path.
You have 60 seconds to finish each level. So be careful and deliberate, but don't waste time as you guide the ball through the 3D maze.
If you like this game, you might enjoy the other free concentration games on this site, such as Shell Game, Snake Game, and Bubble Trouble.
HOW TO PLAY. Use the Arrow keys on your keyboard to move the ball. Be careful, though; the ball speeds up whenever it goes down a slope.
You get 5 balls per level. A ball is subtracted each time you fall off an edge. When all five balls are gone, the game is over.
Press the Arrow keys to keep the ball on the track. Each level is a bit more difficult than the last.
Note: The 60-second timer does not reset when you lose a ball.
When you complete each level, your score displays briefly. The total score for a level is calculated by summing up a time bonus plus a bonus for how many gyroballs you have remaining.
The count-down timer displays in the lower right of the game screen. Your total score displays in the lower left.
This game really helps with concentration and other related mental skills. Have fun!
Published: 01/12/2010
Last Updated: 06/11/2020