Microsoft Jewel Game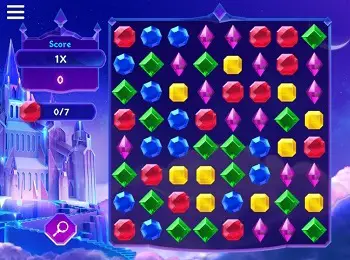 Microsoft Jewel is a beautiful browser-based Bejeweled game. Match colorful gems to level up with classic gameplay challenges.
This game is part of the free online brain games collection.
To begin, click the Small, Medium, or Large button under the picture of the game. This opens the game in a pop-up window.
If you like this game, you might enjoy Garden Tales.
Microsoft Jewel - Instructions
This is the official game created by Microsoft Studios and is free-to-play online here.
Create longer match combos to earn extra points, unlock special jewels, and beat your highest score!
Journey through a whimsical world of jewels with this match 3 puzzle game. Set in a dream castle in the sky, players of all ages will enjoy endless hours of fun with fantasy flair.
Match 3 or more identical jewels in a single move to make a match, and watch as they magically disappear. Drag, click, or tap a jewel to move it vertically or horizontally in the direction to complete a match.
To earn the most points, fill up the color meters to complete each level and add score multipliers to your next board. The game ends when you run out of moves.
For each level, there is a series of goals as shown by the gem bar on the middle-left of the screen. For example, on Level 1 you'll first need to match 7 total red gems to complete the level. Once you've done that, the gem bar changes to show that you need to match 10 blue gems.
If you get stuck and need a hint, click the magnifying glass icon. A gem that can form a three-of-a-kind is highlighted.
To mute the sound or the music in the Microsoft Jewel game, click the menu icon in the upper left. Then click on Music and/or Sound to turn off these effects.
Randomly throughout the gem grid, you'll see the occasional glowing gem. Match the glowing gem for extra points.
There is no timer in this game. That means you can take your time to select the best gem matches for the most points.
For even more points, complete more difficult gem matches. Instead of just three-of-a-kinds, try to make four-of-a-kinds, five-of-a-kinds, and even L-shaped matches.
Jewel-matching games like Microsoft Jewel train important brain skills including visual acuity and concentration. Play these games often to give your brain a boost!
Published: 04/29/21
Last Updated: 04/29/21