The Worlds Hardest Game - It Really Is!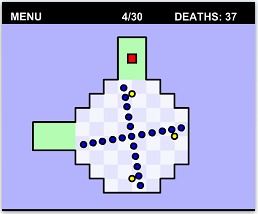 The Worlds Hardest Game is a challenging maze-type game so hard it might drive you crazy. Fight your way through 30 levels of mind boggling obstacles, if you can.
To begin, click the Small, Medium, or Large link, or HTML5/Mobile link under the picture of the game. This opens the game in a pop-up window.
Note: The HTML5/Mobile version Impossible Game is an HTML5 game. It does not require the Adobe Flash Player. It is a similar game by a different game developer.
Worlds Hardest Game - Instructions
This game trains brain speed and reaction time, and I agree that the game is really hard.
It took me the longest time just to get to level 4. (Only 26 levels to go!) What a great workout for your brain.
The author of this game says, "I guarantee you it is harder than any game you have ever played, or ever will play."
That's quite a claim. He might be right though.
Want something just as hard? Try World's Hardest Game 2.
This very hard game is all about concentration and quick response time. The levels of this game are much like mazes.
To complete the level, you must guide your character (a small red square, actually) from the starting position to the finish position without being touched by the moving obstacles.
HOW TO PLAY. Control your moving square using the Arrow Keys. It's okay to touch the walls in this game.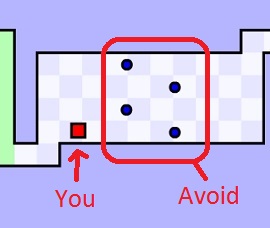 Avoid the Blue Dots
The main thing is to not touch anything that is moving. As you go through each level, you must also collect any small yellow coins that are on the screen.
Both the starting and finish positions are green squares. Your objective is to figure out a way to guide your square through the moving obstacles.
The best solution or movement pattern for the level is usually not obvious. You will need to study the level carefully first.
Even after you've figured out a way to maneuver through the obstacles, you still need to react quickly. The Worlds Hardest Game is designed to only allow you a small window of time to move your piece to avoid one obstacle and then the next.
That means you may need to practice this game a few times to get your reaction speed up.
One nice feature of this puzzle game is that you have an unlimited number of lives.
Each time you are touched by a moving obstacle, thus losing the level, the counter at the top of the game goes up. But you can keep playing.
However, if you want a high score on the Worlds Hardest Game, you will need to not die a lot. Your score at the end is a reflection of how many times you have not lost while attempting the various levels.
This game is definitely a test of patience. It may take you quite a while to figure out and beat a particular level. And if your goal is to complete all 30 levels, be prepared to spend a few hours at it.
Published: 04/25/2011
Last Updated: 06/11/2020