Play Mario Game - Table Tennis Mario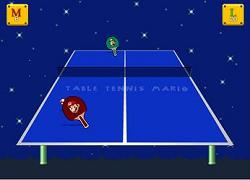 In this fun to play Mario game, battle Luigi in ping pong. This game helps train your concentration and reaction time.
To begin, click the Small, Medium, or Large link, or HTML5/Mobile link under the picture of the game. This opens the game in a pop-up window.
Note: The HTML5/Mobile version Table Tennis Pro is an HTML5 game. It does not require the Adobe Flash Player. It is a similar game by a different game developer.
Instructions to Play Mario Game
If you like this free Mario Brothers game, you might also enjoy the Curve Ball and Free Tennis Game.
HOW TO PLAY.  In this Table Tennis Mario game, the two Mario Brothers go against each other head-to-head. Luigi has challenged you (Mario) to a table tennis game. Be the first to reach 21 points!
You must win by two points. That means even if the score reaches 21 to 20, you must keep playing until either you or Luigi pull ahead by two.
Use the mouse to move your paddle. As far as I can tell, the only time you need to click the mouse is when serving.
It seems like you can impart spin on the ball by moving the paddle sideways quickly during your stroke. Pushing the paddle forward seems to increase the speed of the ball.
I also figured out how to ace Luigi during serves. Try aiming for the right or left back corner, and serve the ball hard. If you aim well and get lucky, the ball will bounce past him off the side line.
Table Tennis Mario really does make you concentrate. The first few times I played, Luigi beat me badly. With some practice, I can finally beat him sometimes. My best winning score so far is 21 to 17.
Brain games like this fun to play Mario game improve concentration and related mental skills. Plus they are just really enjoyable in my opinion. For best results, play this game and the other brain games on this site for at least a few minutes every day.
Published: 10/02/2010
Last Updated: 06/11/2020