Below are links to the free HTML5 Brain Games on this site. Play these games online anytime with no restrictions.
These games do not require the Adobe Flash Player. To play them, click the Small, Medium, or Large "Play" button or HTML5 link on the game page, under the picture of the game.
More About the HTML5 Games
The HTML5 games run directly in your browser (e.g., Google Chrome, Firefox, Safari, Microsoft Edge, Opera etc.). They work best on desktop computers. Some of the games work on tablets, too. The games do not require any browser plug-in to run.
To launch a game, first go to the game page. Then click the Small, Medium, or Large button under the picture of the game, or the HTML5/Mobile link. This opens the game in a pop-up window.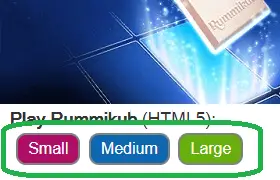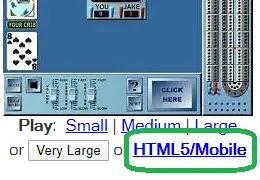 In general, these games do not work well on smart phones. Many of the games appear too small on a phone screen. So play them on your desktop computer if you can.
More About the Adobe Flash Games
Some of the games have both an HTML5 version and an Adobe Flash version. You'll see this on the game page. Simply choose which version you want to play. With regard to the Flash games, only the Flash games marked as "Ruffle Flash" are currently playable.
List of Ruffle Flash games. Following is a list of the games that have an Adoble Flash version compatible with the Ruffle Flash player. These are playable in your browser: 3D Logic • Air Typer • Brain Follow • Glitter Memory • Lightning Librarian • Mario Memory • QuickPic Memory • School Supply SNAP • Tom & Jerry Snack
Adobe Flash games are old technology. In 2020 they were phased out by the major tech companies. However, the new Ruffle Flash player allows some of the old Flash games to be played. You don't need to download the Ruffle Flash player. The player is embedded on my site and runs the compatible Flash games automatically.
Because Adobe Flash is no longer being developed, I'll mostly be adding HTML5 games going forward. HTML5 games load fast and use open-source technology that works well with modern browsers.
I hope you enjoy these games. Play them often to give your brain a boost. There's no logging in, no registering. Just go to the game page and start playing!
To learn how to use brain games to improve your memory and brain power, visit the main Brain Games Training page.
Published: 01/30/2018
Last Updated: 04/07/2021
If you found the page above interesting, fun, or useful, please click the "Like" and/or "Share" button below. Feel free to leave a comment as well. Thanks very much!