Boost Your Brain, with Free Brain Games Online!
Training your brain with free online
brain games
is a fun way to improve your memory, concentration, and other brain skills. There are now over 200 free brain training games on this site. Find them in the
menu bar above
and on the
Game Directory
page
(Not sure where to start? Check out the most popular games.)
You can start your own brain training program right now. I've searched the web for puzzles, logic games, and other brain training games to make it easy for you to begin.
To keep your mind in top shape, play brain games often. For best results, I recommend that you play one or two 15-minute sessions every day.
For a full-brain workout, play a variety of games. Each brain game trains a small set of mental attributes, and different games strengthen different mental abilities.1,2,3,4
Thus, you may need to play a range of games if you want to train all parts of your brain. Here are some examples of the free brain games on this website:
Which Brain Skills Can You Improve?
Online brain games can be used to exercise many different mental abilities. On each brain game page, I usually mention which mental skills that game strengthens most.
Brain skills that can be trained include memory, concentration, problem solving, thinking speed, and mental flexibility.
Memory: Short-term memory, working memory, remembering names.

Examples of games that improve memory:





Concentration: Focus, concentration, attention span.

Examples of games that improve concentration:





Problem Solving: Logical reasoning, quantitative reasoning, arithmetic.

Examples of games that improve problem-solving ability:





Thinking Speed: Visual perception, information processing, spatial orientation.


Examples of games that improve thinking speed:





Mental Flexibility: Planning, task switching, verbal fluency.

Examples of games that improve mental flexibility:




These skills are valuable at school, at work, and in everyday life. According to research, playing brain games can even help prevent Alzheimer's Disease!
Most of the brain games also strengthen your attention, focus, and concentration, in addition to brain skills like short-term memory or verbal fluency. Some of the games, such as Lost in Migration, train attention, focus, and concentration specifically.
Note: One exception is the Dual N-Back game which actually does train all of your brain. Research shows that improvements in your working memory resulting from dual n-back training transfer to general intelligence. In other words, dual n-back can raise your IQ!5
For this reason, I recommend that you play the dual n-back game as often as possible.
Consider Trying the Brain Training Service I Use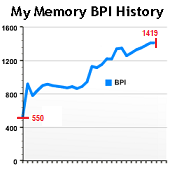 Playing free brain games is certainly very helpful. But for the most effective brain training, check out the Lumosity online brain training service.
Lumosity's online brain training games were designed by scientists. Included are brain training courses that boost memory, attention span, and other brain skills. To learn more about it, Read my Lumosity review.
A subscription to Lumosity costs about $7 per month, but considering that you're improving your brain it's well worth the small cost. (And no, I am not paid anything by them to say that.)
With Free Brain Games - Plan a Little, Then Play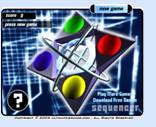 With online free brain games, it is easy to waste time. Unless you approach the games in a structured way, you won't get as much benefit.
Here's one way to create your own very own personal brain exercise program using the free games on this site. Follow the step below, and work on forming a consistent habit until brain training becomes a regular part of your daily schedule.
Choose one or more games from the Games List.
Once a day, for 10 minutes, work on solving the puzzle or game. Use a stopwatch to track time if you need to.

Each time you play, try to solve the game more quickly than the last time (or get a higher score).
After you feel you've mastered that game, repeat the steps above with a new game.
That approach should get you some results. Have fun with it, and good luck!
In addition to being a fun way to give your brain a workout, solving puzzles, mind benders, brain teasers, and other online brain games is a great way to take a break from other "normal" work.
Now you can justify to your parents, significant other, or boss why you spend so much time playing games. You are keeping your mind active and building a stronger brain!

Other Categories of Brain Training Games
Can't make up your mind which free online brain games to start with? To make it easier to find specific types of games, I've grouped related games together on their own pages. Here are some game categories to choose from:
To help you practice the math games, I've also created a free printable multiplication chart and a Multiplication Speed Test that you might find useful. You might also want to check out my free Printable Math Flash Cards.
And if you want to practice memorization, try the U.S. State Capitals Quiz that I made. Be sure to read the memorization tip at the bottom of that page.
Feedback About My Site
If there are any other free online brain games you would like to see added to this site, or if you have any problems with the ones I've provided, feel free to send me a message through my Contact Me page.
Some of these brain games require Flash, Java, or Shockwave. If you have problems viewing the games, check your browser settings or update the Flash, Java, or Shockwave software on your computer. (Google the name of the software to find the current download page).
If you like this page, please share it through your social connections like Facebook, Twitter, and Google+.
Thanks very much for spreading the word!
References for Brain Games Training:
(1) Oei, Patterson. "Enhancing Cognition with Video Games: A Multiple Game Training Study." PLoS ONE, 2013; 8 (3): e58546 DOI: 10.1371/journal.pone.0058546. The authors of the study concluded that for both action and non-action games:
Different game genres have positive effects on different cognitive skills. This has clear practical benefits because it suggests that different video games can be selected depending on which cognitive skill one aims to improve.
Game types tested in the study included:
(2) Institute for Quality and Efficiency in Health Care. "Brain training can help improve specific abilities in older people." ScienceDaily, 24 Dec. 2009. Web. 17 Feb. 2013.
Prof. Peter Sawicki: "Scientific studies have shown that brain training only leads to an improvement in the specific ability that it is aimed at... For example,
Completing sequences of letters can improve your logic skills;

Practising word association techniques can help you to remember things better; and

Trying to find symbols on a computer screen as fast as possible can actually improve your reaction time."
(3) Papp, Walsh, et al. "Immediate and Delayed Effects of Cognitive Interventions in Healthy Elderly: A Review of Current Literature and Future Directions." Alzheimer's and Dementia, 2009; 5 (1): 50 DOI: 10.1016/j.jalz.2008.10.008.
(4) Jay Pratt et al. "The effect of action video game playing on sensorimotor learning: Evidence from a movement tracking task." Human Movement Science, October 2014 DOI: 10.1016/j.humov.2014.09.004
As cited in ScienceDaily (http://www.sciencedaily.com/releases/2014/10/141017111127.htm):
One of the benefits of playing action games may be an enhanced ability to precisely learn the dynamics of new sensorimotor tasks. Such skills are key, for example, in laparoscopic surgery which involves high precision manual control of remote surgery tools through a computer interface.
(5) Jaeggi, Buschkuehl, et al. "Improving fluid intelligence with training on working memory." Proceedings of the National Academy of Sciences (PNAS), 105(19): 6829-6833. April 28, 2008. DOI: 10.1073/pnas.0801268105
Want More Free Brain Games?
There are 254 free online brain games on this website. Go to the Brain Games - Full List page to see them all.
Play them online any time, as often as you want. Always free!
If you found the page above interesting, fun, or useful, please click the "Like" and/or "+1" buttons below. Feel free to leave a comment as well. Thanks very much!