Free Brain Games for Kids
These brain games for kids are fun, and they also train memory, concentration, problem-solving, and other brain skills.
Like all the online games on this website, these games are free to play anytime without logging in and without restrictions. Just pick a game page and start playing.
There are lots of brain games on this site, but I selected these 10 games as a good starting point for children.
All the games on this site are family friendly, but these are especially appropriate for youngsters.
You might think the hundreds of other games in the "Free Brain Games" list on the right are fun too. To each his own! Play the games you like.
Game #1: Bejeweled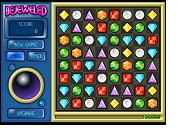 How to Play. Bejeweled is one of the most well-known brain games for kids, and adults like it too! Bejeweled is a colorful, easy game that helps build concentration and spatial thinking.
Move individual jewels to form "three-in-a-rows". When you make a three-in-a-row, those three jewels disappear. Play free now.
Game #2: Copy Cat Jack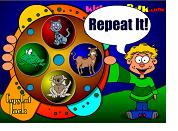 How to Play. Copy Cat Jack is similar to the old "Simon" game, but with animal sounds. This game helps train your short-term memory as you memorize sound patterns.
Repeat the pattern of sounds played by Jack. He adds another sound after every round, so this game can be tough! Play free now.
Game #4: Lightning Librarian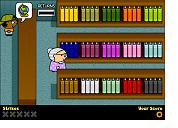 How to Play. This is a fast-paced game that trains short-term memory. Help Lydia the Librarian find books for the kids!
Bring books to the kids before they get upset. Drop unwanted books in the Return slot. The trick is to remember which shelves the different types of books are on. Play free now.
Game #6: Tetris Returns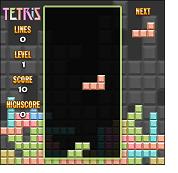 How to Play. All versions of Tetris help train visual perception and reaction time. This version is similar to the classic Tetris you may have played before.
Stack the blocks as they fall to complete rows without any gaps. Once a row is complete, those blocks disappear and the stack drops down. When a piece reaches the bottom row, that piece can no longer be rotated. So you have to be quick! Play free now.
Game #7: Spiderman Web of Words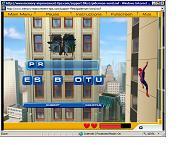 How to Play. Spell words with the available letters before Doc Ock starts throwing rocks at Spiderman. If Spidey gets hit too many times, he'll fall off the building!
Why is this such a fun brain game? I've always liked Scrabble and this game is a lot like that. Plus the visuals and sound effects in this game are pretty cool. Play free now.
Published: 01/23/2010
Last Updated: 06/11/2020