Printable Multiplication Chart
Free Printable Multiplication Chart
Need a printable multiplication chart? You can quickly and easily print out one below. I've got 12 x 12, 15 x 15, and 25-to-50 printable charts.
Several brain games on this site, such as Brain Tuner, require rapid multiplication. If it has been awhile since you computed anything without a calculator, this handy multiplication chart is the perfect way to refresh your memory.
You might also want to check out my free Multiplication Flash Cards and Multiplication Speed Test.
I made these multiplication table printouts. You have my permission to print, copy, and distribute them to anyone as long as the copyright notice at the bottom of the page stays in place.
You can email the PDF file to anyone, or put it on your blog, website, etc. without restriction.
Print Options
To view and print a PDF file, you need the free Adobe PDF Reader or other PDF reader software installed on your computer. Many computers already have this.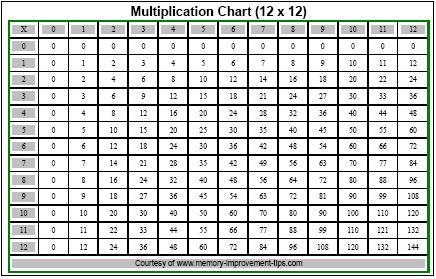 This is what the charts look like. See below to choose size.
The 12 x 12 multiplication chart is available in three sizes. The 15 x 15 and 25-to-50 charts come in one size.
Click a link above to open that chart as a PDF document in a new window. You can print the chart by clicking the Printer icon at the top of the PDF page. This opens a Print window where you can set print options such as number of copies.
Note: If you need the chart in a custom size, send me a message through my Contact Me page. I can probably make it for you, at no charge.
Blank Multiplication Charts
Teachers: Have your students fill in their own chart. Here is are two multiplication charts you can print out and distribute to your class for free:
Blank Multiplication Chart
Blank Chart 1. This version has the vertical and horizontal axis labeled with 12x12, and has a grid, but the product cells in the grid are blank.

Blank Chart 2. All the axis cells and grid cells in this version are blank. Fill in your own factors - whatever you need.
When students write the multiplication facts themselves, the facts are set more firmly in memory.
According to the Dual Coding theory of learning, each sense has its own memory pathway. Thus, the action of writing the products on the chart may help students better remember them.
A Brain Exercise
For a simple brain exercise, print out the multiplication chart and keep it on your desk or near your computer for about two weeks.
Review the chart for about 10 minutes a day. Hide the answers with your hand or a small piece of paper as you try to recall them.
Within a few days, you will have mastered the multiplication tables and completed an excellent workout for your memory.
This printable multiplication chart is also useful for students who are memorizing the multiplication facts for the first time.
If you've got several students who may be using the chart, consider printing the chart on bright card stock and laminating it, as one visitor has done. Your local print shop (e.g., Kinko's, UPS Store, etc.) may be able to help you with that.
Published: 01/20/2010
Last Updated: 06/11/2020