Free Cat Word Search Puzzle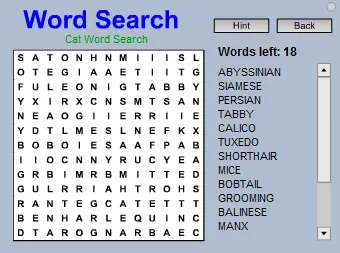 Here's a fun Cat Word Search for you to solve. Play free online or print it out!
To begin, click the Small, Medium, or Large link, or HTML5/Mobile link under the picture of the game. This opens the game in a pop-up window.
The HTML5/Mobile version works on desktop computers and tablets. Rather solve this puzzle on paper? Printable Version
Cat Word Search Instructions
For more word search puzzles, see the Free Online Word Searches page.
HOW TO PLAY.  As with all word searches, the object of the Cat Word Search is to find the words hidden in the puzzle. The words you need to find are listed to the right of the word search.
These include cat breeds and words associated with cats including Abyssinian, Siamese, Persian, Tabby, Calico, Tuxedo, Shorthair, mice, Bobtail, grooming, Balinese, Manx, Ragamuffin, kitten, Angora, Harlequin, Mitted, and tricolor.
Words can be forward, backward, or at a diagonal. When you find a word, cross it off the list by dragging your mouse across the letters of the word.
If you get stuck, try the "Hint" feature. Clicking the Hint button causes the first letter of a word in the puzzle to flash repeatedly as your clue.
CAT FACTS FROM WIKIPEDIA. Here are some interesting facts about domestic cats from Wikipedia:
The earliest direct evidence of cat domestication is a kitten buried with its owner 9,500 years ago in Cyprus.
Cats are now found almost everywhere on Earth.
A group of cats is referred to as a "clowder". A male cat is a "tom" or "gib" if neutered. A female is called a "molly" or "queen".
The term "kitten" (an immature cat) is also the word for young rats, rabbits, hedgehogs, beavers, squirrels, and skunks.
Cats can function with only one-sixth the light level required for human vision at night.
Cats can hear higher-pitched sounds than either dogs or humans.
Unfortunately I am allergic to cats. So even though I like their personalities, the closest I can come is this cat-related word search. :)
Word searches train perception and analytical ability. Solve word searches and other puzzles often to give your brain a boost!
Published: 01/16/2010
Last Updated: 06/11/2020