Baseball Word Search - Free Puzzle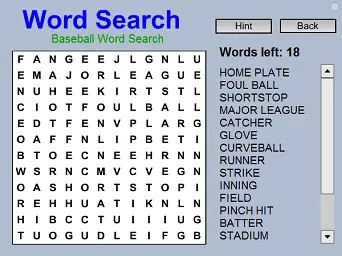 This free Baseball Word Search is a fun way to train your brain. Play free online or print it out.
To begin, click the Small, Medium, or Large link or HTML5/Mobile link under the picture of the game. This opens the game in a pop-up window.
The HTML5/Mobile version works on desktop computers and tablets. Rather solve this puzzle on paper? Printable Version
Baseball Word Search Instructions
For more word search puzzles, see the Free Online Word Searches page.
HOW TO PLAY.  Find all the words hidden in the letter grid. The words you need to find are listed to the right of the puzzle.
When you find a word, cross it out by dragging your mouse across the letters of the word. Words can be forward, backward, or at a diagonal.
If you cannot find a word, use the Hint feature. Click the Hint button, and the first letter of one of the words in the word search flashes as your clue. You can only use this once.
A FEW MISCELLANEOUS FACTS ABOUT BASEBALL. Here are some random facts about baseball from Wikipedia:
The first baseball game with codified rules was played in Hoboken, New Jersey on June 19, 1846. Prior to that, the game goes back to the mid-1700's in England.
The game is played with three basic tools: a bat, a ball, and a baseball glove (or mitt).
Unlike most other sports, the shape and size of the baseball playing field can vary greatly depending on location.. There are no rules for fence height or height of other structures.
Unlike other games such as Basketball, American football, and European football (soccer), in baseball there is no clock. That means the team with the lead cannot simply hold the lead to win.
Statistics are closely watched in baseball, sometimes to the point of obsession. Traditional statistics include at bats, hits, runs, run batted in (RBIs), home runs, batting average, stolen bases, and caught stealing. For pitchers, stats include wins, losses, saves, innings pitched, winning percentage, and earned run average (ERA).
Baseball is known as "America's Pastime" but it is well-established in several other countries included Canada, Japan, Cuba, and the Dominican Republic.
Word searches are one of my favorite types of puzzle. They exercise attention and visual perception. I hope you enjoyed this Baseball Word Search!
Published: 01/16/2010
Last Updated: 06/11/2020