Spanish Word Search - Free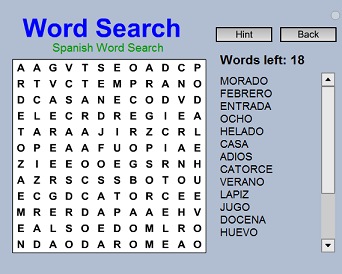 This Spanish Word Search is a fun way to exercise your brain. You can solve it online or print it out.
To solve this puzzle online, click the Small, Medium, or Large link or HTML5/Mobile link under the picture of the game. This opens the puzzle in a pop-up window.
The HTML5/Mobile version is an HTML5 game. It works in most browsers and does not require the Adobe Flash Player.
Spanish Word Search Instructions
Note: To print this puzzle, click the "Printable Version" link above. You have my permission to copy and distribute this word search as long as you keep the copyright notice at the bottom of the page in place.
HOW TO PLAY.  Locate the words that are hidden in the letter grid. The search word list is at the right of the puzzle.
When you find a word, cross it out by dragging your mouse across the word. Words can be aligned forward, backward, or at a diagonal.
If you can't find a word, try the Hint feature. Click the Hint button, and the first letter of one of the words in the word search flashes as your clue. Careful, though, you can only use this once!
This word search puzzle is not meant for Spanish-speakers only. It's also a fun variation for English speakers who want to try something different.

In case you are trying to learn Spanish, or if you're just curious, here are the meanings of the words in this word search:
  

huevo - egg

jugo - juice

lápiz - pencil

morado - purple

ocho - eight

padre - father

pescado - fish

temprano - early

verano - summer
When I was making this word search game, I selected these words at random from a Spanish dictionary. If you want, you can use the word list for a memory exercise. Try using the Keyword Method memory technique (substitute words, visualization, and association) to memorize the definitions of these Spanish words.
The more you practice the memory systems, the faster you'll get at using them. So whenever someone presents you with a list of Spanish, French, or even Chinese foreign vocabulary, for example, take a few minutes to use the techniques. You might not need to know the words for practical reasons, but committing a list of foreign vocabulary to memory is a really effective memory training exercise.
Anyway, word searches are one of my favorite types of puzzle. I hope you enjoyed this Spanish Word Search!
Word searches train visual perception and concentration. Solve puzzles like this often to give your brain a boost!
Published: 01/02/2011
Last Updated: 06/11/2020