Rain Forest Word Search - Free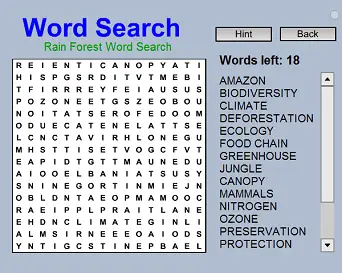 Try this Rain Forest Word Search as a fun diversion and brain training exercise. Solve it online or print it out.
To solve this puzzle online, click the Small, Medium, or Large link or HTML5/Mobile link under the picture of the game. This opens the puzzle in a pop-up window.
The HTML5/Mobile version is an HTML5 game. It works in most browsers and does not require the Adobe Flash Player.
Rain Forest Word Search Instructions
HOW TO PLAY.  The words hidden in the puzzle are listed to the right. Find all the words to complete the word search.
To cross out a word, drag the letters of the word with your mouse. Words can be at an angle, backwards, or forwards.
The Hint feature can be used if you get stuck. Clicking the Hint button causes the first letter of one of the words in the word search to flash repeatedly. The Hint can only be used one time, however.
SOME FACTS ABOUT THE RAIN FOREST. Here are some interesting facts about rain forests from Wikipedia:
To be considered a "rainforest", the forest must receive at least 1750-2000 mm (68-78 inches) of rainfall annually.
Millions of species that live in the rainforests are still undiscovered.
Almost one-third of the Earth's oxygen turnover is processed by rain forests.
There are two kinds of rainforest, the tropical rainforest and the temperate rainforest.
Due to exploitation of the rainforests including heavy logging and agricultural clearance, over 50,000 species are driven to extinction every year.
Rainforests have four main layers: emergent, canopy, understory, and the forest floor.
There are supposedly 67 tribes in the Brazilian rainforest that still have never been contacted.
Word searches are one of my favorite types of puzzle. I hope you enjoy this Rain Forest Word Search!
Word searches train visual perception and concentration. Solve puzzles like this often to give your brain a boost!
Published: 01/02/2011
Last Updated: 06/11/2020