Memorial Day Word Search - Free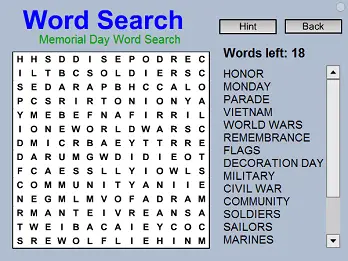 Here's a free Memorial Day word search puzzle in honor of that important day. Print it out or solve online.
To begin, click the Small, Medium, or Large link or HTML5/Mobile link under the picture of the game. This opens the game in a pop-up window.
The HTML5/Mobile version works on desktop computers and tablets. Rather solve this puzzle on paper? Printable Version
Memorial Day Word Search Instructions
Note: To print this puzzle, click the "Printable Version" link above.
HOW TO PLAY.  To solve this word search, you need to find all the words hidden in the letter grid. The words to find are listed to the right of the puzzle.
When you find a word, cross it out. To do this, drag your mouse across the letter of the word. Words can be forward, backward, or at a diagonal in the puzzle.
If you can't find a word, try using the Hint feature. Clicking the Hint button causes the first word of one of the words in the word search to flash repeatedly as your clue. You can only use this feature once.
ABOUT MEMORIAL DAY. Memorial Day in the United States was created in 1868 just after the end of the Civil War. General John Logan, Commander in Chief of the Grand Army of the Republic, issued a proclamation announcing the holiday "... for the purpose of strewing with flowers or otherwise decorating the graves of comrades who died in defense of their country during the late rebellion."
Memorial Day is observed on the last Monday of May. While it was observed to a degree in the late 19th and early 20th centuries, Memorial Day became even more popular after the end of World War II. Many people observe Memorial Day by visiting memorials and cemeteries. Individual communities also hold observances for fallen soldiers from that town.
Many businesses in the U.S. recognize this holiday as a paid vacation day for employees.
Word search puzzles train visual perception, concentration, and analytical ability. Solve puzzles often to give your brain a boost!
Published: 01/02/2011
Last Updated: 06/11/2020