Free Santa Word Search Puzzle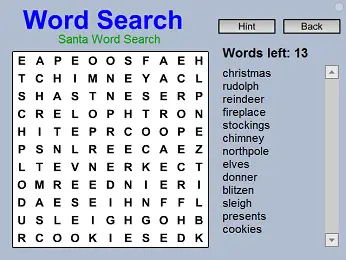 This Santa Word Search is a fun way to get into the holiday spirit. Solving word searches trains memory and visual perception.
To begin, click the Small, Medium, or Large link, or HTML5/Mobile link under the picture of the game. This opens the game in a pop-up window.
The HTML5/Mobile version works on desktop computers and tablets. Rather solve this puzzle on paper? Printable Version
Santa Word Search Instructions
For more word search puzzles, see the Free Online Word Searches page.
HOW TO PLAY.  The words in the "Words left" list to the right of the word search are hidden in the puzzle. The words can be backwards, forwards, or at an angle.
When you find a word, highlight it by dragging the letters of the word with your mouse. A blue line appears through the word and it disappears from your list.
If you get stuck, click the "Hint" button. The first letter of one of the words will flash on the puzzle. The hint feature can only be used once.
Word searches are one of my favorite kinds of puzzle. I hope you have fun with this Santa-themed one.
Enjoy!
A FEW FACTS ABOUT SANTA. After you finish the Santa Word Search puzzle, check out these interesting facts about Santa from Wikipedia:
Santa Claus is a legendary figure in many Western cultures who brings gifts to the homes of good children during the overnight hours of Christmas Eve, December 24 or on his Feast Day, December 6 (Saint Nicholas Day).
Some other names for him are Saint Nicholas, Sinterklaas, Father Christmas, and Kris Kringle.
The legend may have as its basis tales of historical gift giver Saint Nicholas, a saint and Greek Bishop of Myrna (in modern Turkey) who lived AD 270 through December 6th, AD 346. He had a reputation for generous gifts to the poor and for secret gift-giving, such as putting coins in the shoes of those who left them out for him.
The reliquary of St. Nicholas was desecrated by Italian sailors in 1087, and his relics taken to Bari where they are kept to this day.
Saint Nicholas is the patron saint of many diverse groups, from archers, sailors, and children to pawnbrokers. He is also the patron saint of both Amsterdam and Moscow.
Published: 01/16/2010
Last Updated: 06/11/2020