Butterfly Word Search - Print, or Solve Online
To play this game, visit this page on a desktop or laptop computer. This game does not run well on phones or tablets.
Choose a different game:
Free Online Brain Games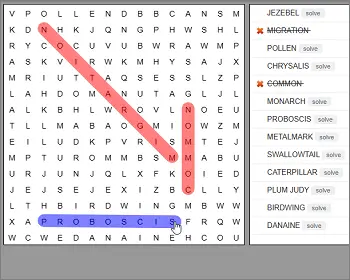 This free Butterfly Word Search is a fun way to exercise your brain. Solve it online or print it out. The online version is replayable. The letters rescramble when you restart.
This game is part of the free online brain games and word searches puzzles collections.
To begin, click the Open the Word Search button. This opens the puzzle in a pop-up window.
Quick Tip: To increase the size of the letters in the grid, click the +A button.
Butterfly Word Search Instructions
For many more free word searches you can print out on paper, see my word search printables page.
Instructions: Find and circle the words from the list. Words may be forward, backward, vertical, or diagonal within the puzzle.
The words you need to find are listed on the right side of the puzzle. When you find a word in the puzzle, drag the word with the mouse to circle it.
Find all the words in the letter grid before your points fall to zero. If you give up searching for a word, click the Solve button next to the word. This circles the word in the grid for you.
HOW TO PLAY.  To complete the word search, you need to find all the hidden words. The butterfly-related words you need to find are listed to the right of the word search.
When you find a word, circle it. You do this by dragging the letters of the word with your mouse. The word is marked through with a blue line and removed from the list.
If you need a little help, click the "Hint" button. This causes the first letter of one of the words in the puzzle to flash. You can only use this feature one time, however.
Note: For more free printable word search puzzles on various themes, please visit my Word Search Printables page.
THE BEAUTY OF BUTTERFLIES. All cultures revere or even fear the butterfly. Here are some interesting facts about them from Wikipedia:
Artistic depictions of butterflies have been used in many cultures including Egyptian hieroglyphs 3500 years ago.

The Ancient Greek word for "butterfly" is ψυχή (psȳchē), which primarily means "soul", "mind".

The Russian word for "butterfly", бабочка (bábochka), also means "bow tie". It is a diminutive of "baba" or "babka" (= "woman, grandmother, cake"), whence also "babushka" = "grandmother".

Some people say that when a butterfly lands on you it means good luck. However, in Devonshire, England, people would traditionally rush around to kill the first butterfly of the year that they see, or else face a year of bad luck.
Published: 01/16/2010
Last Updated: 01/10/2023