Halloween Word Search - Print or Online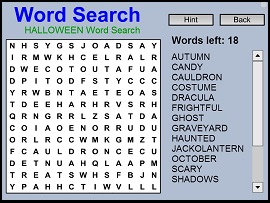 Looking for a free Halloween Word Search puzzle? You've arrived at the right place.
To begin, click the Small, Medium, or Large link, or HTML5/Mobile link under the picture of the game. This opens the game in a pop-up window.
The HTML5/Mobile version works on desktop computers and tablets. Rather solve on paper? Printable Version
Halloween Word Search - Instructions
I made this word search, and you are free to print and use it for any personal or classroom purpose.
This word search puzzle can even be solved online in your browser. This is a great option for those who want to save printer paper and ink or who are in a hurry.
HOW TO PLAY. As with all word searches, the object of this word search puzzle is to find all the words hidden in the puzzle grid.
When you find a word, either 1) cross it out when solving online, or 2) circle it when solving on paper.
Words may be forward, backward, vertical, or diagonal within the puzzle.
The words hidden in this word search puzzle are all related to Halloween. This spooky holiday is associated with all kinds of creepy things.
But also to fun stuff like costumes and sweet stuff like Halloween candy. No wonder Halloween is one of every kid's favorite nights of the year.
Note: For more free printable word search puzzles on various themes, please visit my Word Search Printables page.
Word List
The following 18 words are hidden in this Halloween word search:
Autumn

Candy

Cauldron

Costume

Dracula

Frightful

Ghost

Graveyard

Haunted
Jack o' Lantern

October

Scary

Shadows

Terror

Treats

Tricks

Werewolf

Witch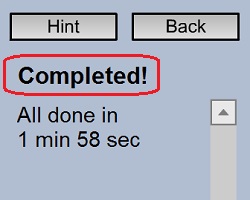 Congrats on finishing the word search
Hint Feature
When solving this word search or any of my online word searches, there's a helpful feature you can use when you get stuck. It's the Hint button in the upper right corner of the puzzle.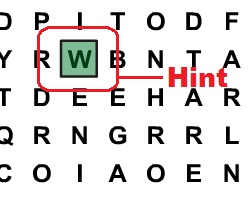 Hint feature is very helpful
As the name tells you, clicking the Hint button displays a clue regarding the words you haven't located yet in the puzzle.
Specifically, this feature causes the first letter of one of the remaining words to flash. This makes it easy to quickly cross out the word from the puzzle.
Feel free to use the Hint whenever you like. There's no limit as far as I'm aware, and no penalty since this isn't a timed puzzle.
But don't give up too easily! This is only a brain game if you put your mind to work.
When you finish the online Halloween word search puzzle, a message displays congratulating you for completing it. The time it took you to find all the hidden words also displays.
About the Printable Version
As mentioned above, you can either solve this Halloween word search online in your browser, or print it out to solve on paper.
If you decide to print it out, you have my permission to make as many copies of it as you need. For example, if you are a school teacher, print this out for your students. This even makes a great attention-getter in the workplace.
I taught a few classes at the company where I used to work. Setting aside the first 5 minutes of class for my students to work on a word search was one of the best ice breakers I ever tried.
For those students who aren't quite awake or fully concentrating at the beginning of class, a Halloween word search should cause them to zone in and focus. Nobody wants to be the loser who couldn't find any words!
At the end of 5 minutes, I'd tell them to put the puzzle away to complete later at home. At that point, nearly everyone would be alert and paying attention in preparation for my lecture.
Published: 10/17/2014
Last Updated: 06/11/2020