Summer Word Search - Free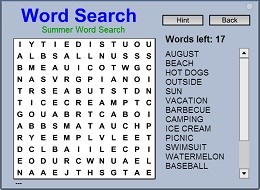 This Summer Word Search is a fun way to exercise your brain. You can solve it online or print it out.
To solve this puzzle online, click the Small, Medium, or Large link or HTML5/Mobile link under the picture of the game. This opens the puzzle in a pop-up window.
The HTML5/Mobile version is an HTML5 game. It works in most browsers and does not require the Adobe Flash Player.
Summer Word Search Instructions
HOW TO PLAY.  Search the Summer Word Search puzzle for the words listed on the right of the puzzle. Words can be forward, backward, or at an angle. They can also cross over each other.
To cross out a word, drag over the letters of the word with the mouse. A blue line appears through the word, and the word is automatically removed from your list.
If you need a hint, click the "Hint" button. The first letter of one of the words flashes inside the puzzle. You can only use the hint once.
Word list for this word search puzzle (HTML5 version): SWIMMING, PICNIC, AUGUST, SUNSHINE, GARDEN, CAMPING, BEACH, BARBECUE, TRAVEL, ICE CREAM, POPSICLE, VACATION, and BASEBALL.
SUMMER SEASON TRIVIA. Here are some interesting facts about the summer season from Wikipedia:
In Norse mythology, Sumarr (Old Norse "Summer") and Vetr (Old Norse "Winter") are personified seasons. Sumarr and Vetr appear in the Poetic Edda compiled in the 13th century from earlier traditional sources, and the Prose Edda written in the 13th century by Snorri Sturluson.
The seasons, including summer, start on different dates in different cultures depending on astronomy and regional weather patterns.
According to meteorologists, summer includes the whole months of June, July, and August in the northern hemisphere and the whole months of December, January, and February in the southern hemisphere.
In southern and southeast Asia, where monsoons occur, summer is defined as March to May or early June. This is their warmest time of the year ending with the onset of monsoon rains.
The meteorological definition of seasons is used in Austria, Denmark, and the former USSR. It is also often used in the United Kingdom, where summer is thought of as extending from mid-May to mid-August.
I really enjoy word search puzzles. I hope you had fun with this one.
Word searches train visual perception and concentration. Solve puzzles like this often to give your brain a boost!
Published: 01/16/2010
Last Updated: 06/11/2020