Fall Word Search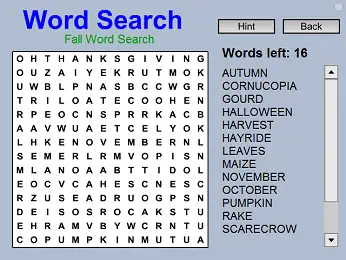 Try this Fall Word Search as a quick brain-training exercise. Word searches train perception and memory.
To begin, click the Small, Medium, or Large link or HTML5/Mobile link under the picture of the game. This opens the game in a pop-up window.
The HTML5/Mobile version works on desktop computers and tablets. Rather solve on paper? Printable Version
Fall Word Search Instructions
Note: If you want to print this puzzle, click the "Printable Version" link above. This opens the puzzle in a PDF file that you can print.
If you like the Fall Word Search, you might also enjoy the other free online and printable word searches on this site, such as the Butterfly Word Search or Halloween Word Search.
HOW TO PLAY. Look for words hidden in the Fall Word Search puzzle. The words you need to find are listed in the "Words left" section on the right side of the puzzle.
Words can be forward, backward, or at an angle.
When you find a word, drag the letters of the word with the mouse. This places a blue line through the word, and the word is automatically removed from the list.
Click the "Hint" button if you need some help. The first letter of one of the words flashes as your clue.
You can only use the hint one time, so save it for when you really need it.
FALL ( AUTUMN ) TRIVIA. Here are some interesting facts about the fall season from Wikipedia:
Fall is perhaps my favorite season. This Fall Word Search puzzle reminds me of many of the reasons why.
Published: 01/16/2010
Last Updated: 06/11/2020