Earth Day Word Search - Print or Solve Online
To play this game, visit this page on a desktop or laptop computer. This game does not run well on phones or tablets.
Choose a different game:
Free Online Brain Games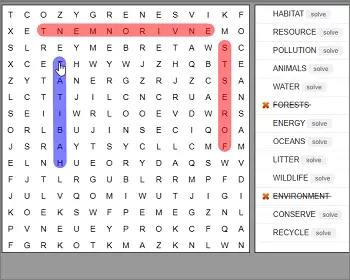 This free Dinosaur Word Search is a fun way to exercise your brain. Solve it online or print it out. The online version is replayable. The letters rescramble when you restart.
This game is part of the free online brain games and word searches puzzles collections.
To begin, click the Open the Word Search button. This opens the puzzle in a pop-up window.
Quick Tip: To increase the size of the letters in the grid, click the +A button.
Earth Day Word Search Instructions
For many more free word searches you can print out on paper, see my word search printables page.
Instructions: Find and circle the words from the list. Words may be forward, backward, vertical, or diagonal within the puzzle.
The words you need to find are listed on the right side of the puzzle. When you find a word in the puzzle, drag the word with the mouse to circle it.
Find all the words in the letter grid before your points fall to zero. If you give up searching for a word, click the Solve button next to the word. This circles the word in the grid for you.
Note: Some of the instructions below are for the old Adobe Flash version of the game.
HOW TO PLAY. To solve the Earth Day word search, find all the words hidden inside. The list of words you need to find is displayed to the right of the puzzle.
To mark a word as "found", drag the mouse over the letters in the word. This places a blue line through the word, and the word is removed from the list.
If you get stuck, get some help by clicking the "Hint" button. Clicking the Hint button causes the first letter of one the words in the puzzle to flash as your clue.
You only get to use the Hint button once, though, so save it for when you need it.
Words can appear in the puzzle forwards, backwards, or at an angle. One trick for finding words is to look for "doubles". Check the words in the list for letters repeated next to each other. These are often easy to spot in the word search.
ABOUT EARTH DAY. "Earth Day" is a relatively new holiday celebrated on April 22. The purpose of the holiday is to inspire people around the world to appreciate the fragility and beauty of the Earth. It was started in 1970 and is associated with the environmental movement.
U.S. Senator Gaylord Nelson founded it as an environmental teach-in on April 22, 1970. In 1990, Dennis Hayes (the national coordinator in 1970) expanded it internationally with events in 141 countries. Earth Day is now celebrated in over 175 nations annually.
Published: 01/16/2010
Last Updated: 10/12/2023