Earth Day Word Search - Print or Play Online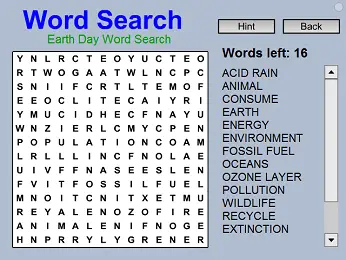 Try this Earth Day word search to commemorate the Earth Day holiday. Word searches train memory and concentration.
To begin, click the Small, Medium, or Large link or HTML5/Mobile link under the picture of the game. This opens the game in a pop-up window.
The HTML5/Mobile version works on desktop computers and tablets. Rather solve on paper? Printable Version
Earth Day Word Search Instructions
Note: To print this puzzle, click the "Printable Version" link above. You have my permission to copy and distribute the puzzle as long as you keep the copyright notice at the bottom of the page in place.
HOW TO PLAY. To solve the Earth Day word search, find all the words hidden inside. The list of words you need to find is displayed to the right of the puzzle.
To mark a word as "found", drag the mouse over the letters in the word. This places a blue line through the word, and the word is removed from the list.
If you get stuck, get some help by clicking the "Hint" button. Clicking the Hint button causes the first letter of one the words in the puzzle to flash as your clue.
You only get to use the Hint button once, though, so save it for when you need it.
Words can appear in the puzzle forwards, backwards, or at an angle. One trick for finding words is to look for "doubles". Check the words in the list for letters repeated next to each other. These are often easy to spot in the word search.
ABOUT EARTH DAY. "Earth Day" is a relatively new holiday celebrated on April 22. The purpose of the holiday is to inspire people around the world to appreciate the fragility and beauty of the Earth. It was started in 1970 and is associated with the environmental movement.
U.S. Senator Gaylord Nelson founded it as an environmental teach-in on April 22, 1970. In 1990, Dennis Hayes (the national coordinator in 1970) expanded it internationally with events in 141 countries. Earth Day is now celebrated in over 175 nations annually.
Published: 01/16/2010
Last Updated: 06/11/2020