Flowers Mahjong - Free Online Brain Game
Give this free Flowers Mahjong game a try if you're looking for something a little different. This game is relaxing yet challenging.
Match pairs of tiles that have two adjacent sides open, rather than the usual right and left sides in typical mahjong.
To begin, click the Small, Medium, or Large link under the picture at left. This opens the game in a pop-up window.
Flowers Mahjong - Instructions
If you like this game, you might enjoy the other free online mahjong games on this site.
HOW TO PLAY. After the game loads, click the START button in the lower right of the game screen. On the Select a Level screen, click the mahjong level you want to play. You must unlock the levels in order, one at a time.
The mahjong tiles in this game have beautiful flowers rather than Chinese characters. But what's really different are the mahjong rules.
In regular mahjong, a tile is considered "available" to be matched if either the left side of the tile, right right side, or both are not blocked by another tile. In this game, a tile is available if two sides of the tile next to each other (i.e., adjacent) are not blocked.
For example, suppose the right side and bottom side of a tile are not blocked. Well, these two sides are touching, so that tile can be paired. To remove a pair of tiles from the board, click one and then the other.
If a tile is open on the top and bottom, or open on the right and left side (or just one side), that tile cannot yet be played.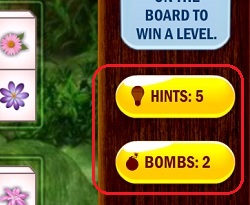 If you get stuck consider using the Hints and Bombs features on the right side of the game. Clicking the Hints button causes a matching pair of tiles to glow. Clicking the Bombs button lets you place a bomb on any tile you want, which destroys that tile and its pair.
Note: If you forget the rules, just click the How to Play link in the game. This displays a help screen in-game.
This Flowers Mahjong game includes 24 levels of mahjong challenges for you to solve. Games like mahjong train important brain skills, including attention, short-term memory, and mental flexibility.
I found this mahjong game to be somewhat easier than regular mahjong, at least on the first few levels. What do you think? Feel free to leave a comment in the Comments section below.
Game distributed by NetFreedomGames.com. Used with Permission.
You May Also Like
If you found the page above interesting, fun, or useful, please click the "Like" and/or "G+" buttons below. Feel free to leave a comment as well. Thanks very much!